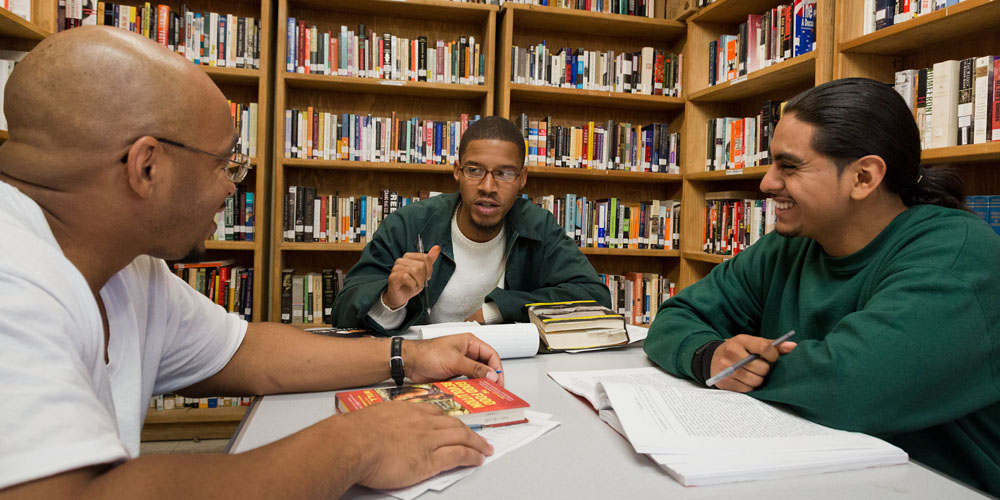 How did a debate team made up of people doing time at a New York State prison in the Catskills defeat both Harvard and Cambridge – two of the most respected debate teams ever? They were students in the Bard Prison Initiative (BPI). Their skills were honed in a college degree program that may be one of Bard's most innovative efforts.  
Bard has a well-deserved reputation for innovation and civic engagement. As LLI members, we have all benefited from that commitment, but most of Bard's Civic Engagement efforts are focused on people who have little access to education.
BPI currently has 320 enrolled students incarcerated in six New York State prisons.  They are earning associate's and bachelor's degrees from Bard College, taking classes while in prison. The faculty are current and former college professors qualified to offer rigorous academic courses. Bard students volunteer as tutors and research assistants.  This is essential because people incarcerated in New York State prisons have no access to the internet and only limited library facilities. The Bard students' volunteerism is a major commitment, one day per week during the academic year.
College education is transformative for incarcerated people.  More than half of people released from prison re-offend at some time, but the recidivism rate for BPI graduates is less than 2%.  
BPI participant and Bard graduate Salih Israil put it this way. "I didn't know what to imagine. The option was there, it was very rare. I wanted it. I didn't know what liberal arts was. I was surprised when I saw it was something more than art. It offered opportunities beyond what I thought". Israil began work as a data analyst only two months after coming home from prison. BPI has a re-entry program and an extensive alumni network that can have a huge impact on someone leaving incarceration and trying to enter the world as a productive citizen. "This opens doors," Salih said. "The networks I developed at BPI are far-reaching."   
Since his stint in programming, he has spent several years working for BPI on a variety of projects – most recently, the development of the microcollege program, which BPI is now piloting at the Brooklyn Public Library. It offers Bard degree programs to low income students at a location in their community.  Salih is now returning back to his first love – technology.
BPI began in 1999, the vision of Bard student Max Kenner. A group of students worked to gain access to the New York State prison system and to raise the initial funds. It began with 16 students and currently enrolls more than 300 students.  More than 550 degrees have been granted. BPI is seen as a national model and established the Consortium for the Liberal Arts in Prison to offer strategic advice and technical assistance with other US colleges developing in-prison college degree programs.   
We can look forward to hearing more about BPI this coming November when PBS airs filmmaker Lynn Novick's documentary series College Behind Bars.
The Washington Post published an article on April 20, 2019 about the BPI, named How maximum security inmates took on Cambridge in a debate about nuclear weapons – and won.
Preview Lynn Novick's documentary College Behind Bars, produced by Sarah Botstein and executive produced by Ken Burns.
Here is an excerpt from 6 minute the trailer:
"Explore the transformative power of education through the eyes of a dozen incarcerated men and women trying to earn college degrees – and a chance at redemption – from one of the country's most rigorous prison education programs – Coming to PBS November 2019."