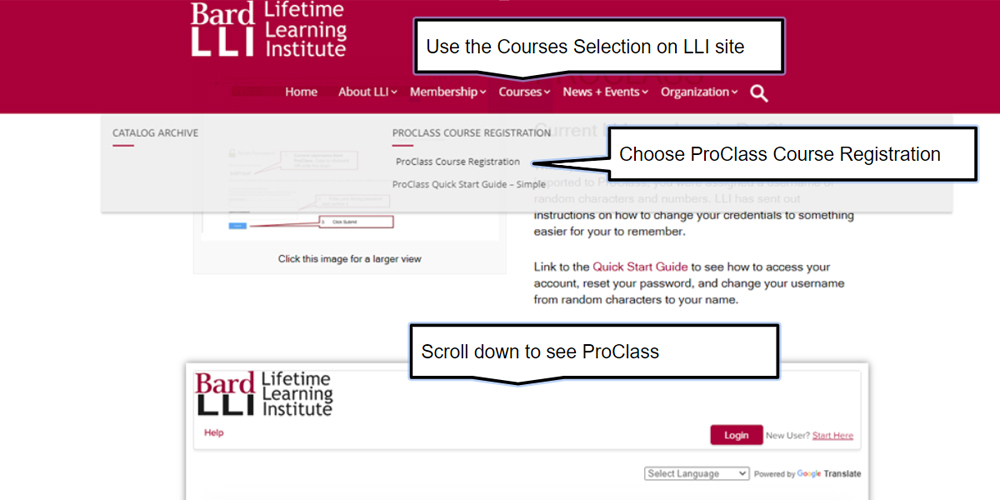 While we are staying at home during the coronavirus storm, another blizzard has been coming at us – technology. Want to talk to your grandchildren? Facetime. Want to talk to a friend overseas? WhatsApp. Want something to eat? Hannaford's Online. Want something to drink? Wine.com. Want to take part in the LLI annual meeting or Summerfest? Zoom. We are all learning – sometimes with someone to help us, sometimes just figuring it out.
Now, LLI is adopting new technology for course registration. It is called ProClass. And we promise it will be a short learning curve, our tech team will be there to help, and ProClass will offer you some real benefits.
Just like when you shop online, you will need a user name and a password. Because LLI doesn't want any members to be missing from the system and unable to register for classes, every current member has been entered into ProClass already – but with a temporary username and password. You will change it from the temporary identification–for example, username = lkwejr98, and password = LKJ33na–to something you have a chance of remembering. Everyone will get a detailed email in mid-July on how to do this. And, as with Zoom, help will be available from LLI's technology team ([email protected]).
By the end of July, everyone should be set up in ProClass. That will make registration for fall classes in August much easier.
In the olden days, information about registration, what classes you received, etc., came in an email. If the reminder emails left you wondering if you had already registered or not (frequently my case), it wasn't so easy to check. If you missed an email about registration, you had to search for it. If you changed your email and forgot to tell LLI, you did not receive the information you needed.

With ProClass, once you log in all that information will be right in front of you. You can update your email and mailing address with a few clicks. You can see what classes you are registered for. You can add or drop on the same page.

LLI will be able to create waiting lists for classes that are limited, so you won't have to check back to see if space has opened up. You will be able to create a wishlist for classes you'd like to register for as soon as the catalog comes out.

Our LLI community is about learning. The high level of participation in our Zoom annual meeting made it clear we are up to the task.