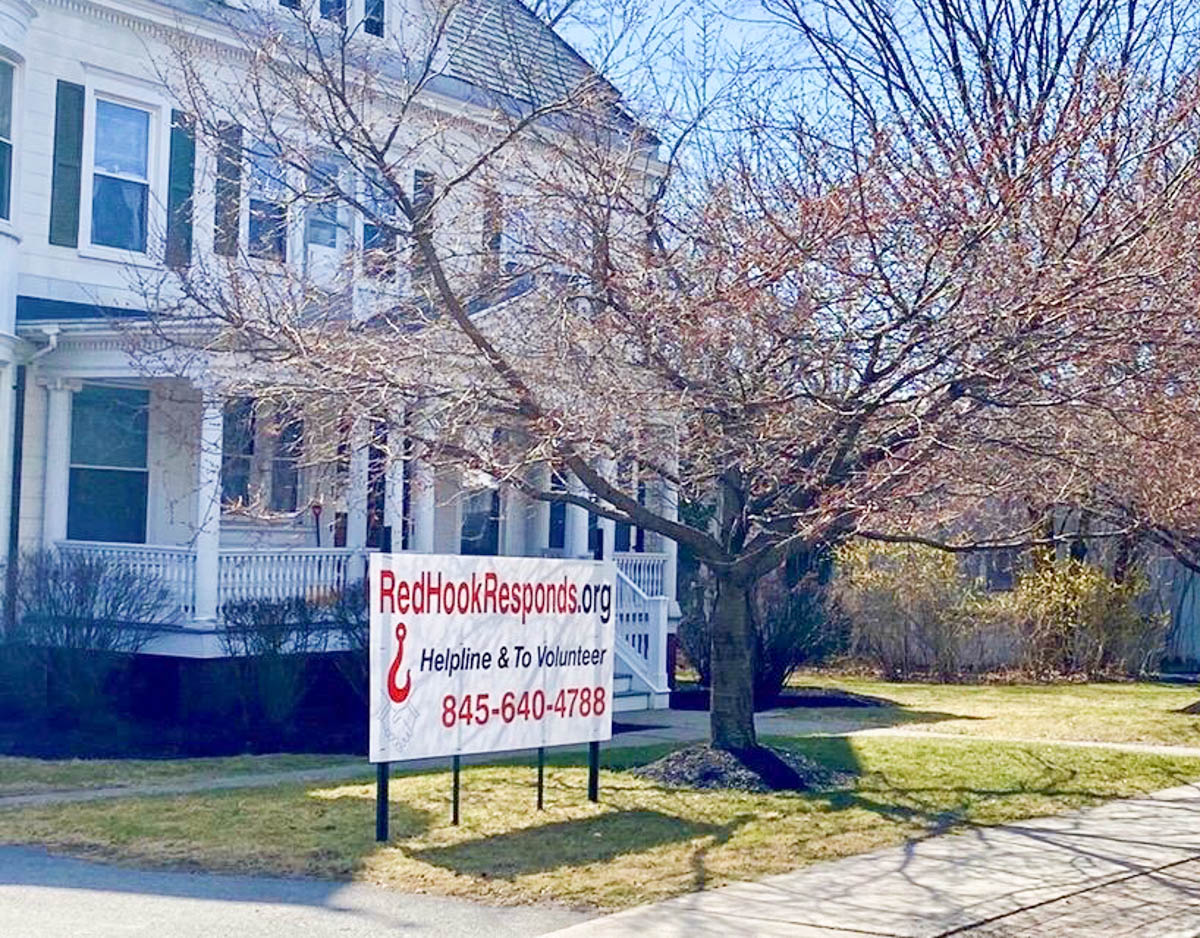 LLI is a volunteer organization, with dozens and dozens of people every year working to make it a success. That spirit is driving LLI member response to the COVID-19 epidemic and the quarantine as well.
LLI has co-sponsored some volunteer efforts so we know there have been many LLI volunteers, but a lot more is going on in our communities and we'd love to know what people are doing so we can share ideas. And we would certainly love to hear from the western side of the river. Please let us know at [email protected].
Here is just a smattering of the inspiring ideas and work of LLI members.
At the most basic level, we are connecting with our neighbors. LLI, along with the Red Hook Senior Services Committee, Red Hook Responds, the Red Hook Library, and the Bard Center for Civic Engagement, called hundreds of older Red Hook town residents to check on their welfare, were they able to get the groceries and pharmacy they needed, did they have people they could call on for help, did they want a weekly check-in call? This has evolved into two outreach programs – Neighborly Chats and Notes of Kindness.
Some of us have reached out to our neighbors on a more informal basis. Nanci Kryzak's neighbors have done a simple exchange of phone numbers and emails, with the agreement that they can be called on as needed. In my own neighborhood, we invited all the neighbors on our street to exchange contact information and also to join a weekly Zoom call where we just chat with each other.
In Rhinebeck, Anne Brueckner and Nina Lynch, who are both involved in Rhinebeck at Home have been working hard on Rhinebeck Responds, among other things. Rhinebeck Responds was created to share local resources and volunteer opportunities, connecting local citizens and civic organizations. Anne sees that everyone has something to give. In her initial calls to Red Hook elders, one of the people she reached said, "I'm feeling very lonely and isolated." Anne told her about the Neighborly Chat calls and the women responded, "Oh I could do that." In offering mutual aid, we are not just giving help but giving people the opportunity to do things themselves for others. "You don't know it until you experience it," Anne said and she hopes people will take the risk of opening their hearts and putting themselves out there.
Dave Jutton has been involved with the St. Christopher's food pantry in Red Hook for the last decade. The quarantine has changed a lot. The need for food is greater and the process of delivering has changed. The food pantry has gone from monthly distributions to bi-weekly distributions, and from a grocery shopping-like experience where people could take what they needed to a food-box distribution with diapers and masks available on request The twenty volunteers were too big a crowd for social distancing so Dave and a colleague have taken over packing the food boxes. For those who want to contribute to food pantries, he notes, "It's much more helpful to write a check or give cash to a food pantry. We can get stuff in bulk for the cost of the shipping. We can buy 25 lbs. of rice for a dollar and ship it for another 17 cents. And, if you have cases of the same thing, it's much easier to make sure everyone gets the same choices."
LLIer Jerry Bankowski works on St. Christopher's Bread Plus program, part of seven two-person teams who pick up day-old donations from Hannaford and distribute them to 45 families who are unable to come to the food pantry. They estimate they reach 100 people.
The Red Hook Community Center Sewing Room volunteers began a project to use the sewing room's fabric stock to make masks. The program has mushroomed into a major mask-making venture. LLIer Jill Lundquist estimates she cut fabric pieces for at least 800 masks. The project has sewn more than 2,000 masks that have been distributed to shoppers at Hannafords, farmworkers, restaurant workers, staff at the Devereux campuses, and elsewhere.
And not least, several dozen LLI members have been working feverishly to bring LLI classes online in time for SummerFest. They have been researching and developing the technology, training and rehearsing presenters, and much more.
We are proud of the spirit that has led so many of us to volunteer in support of our communities and we are looking forward to hearing more stories in the next issue of the newsletter.