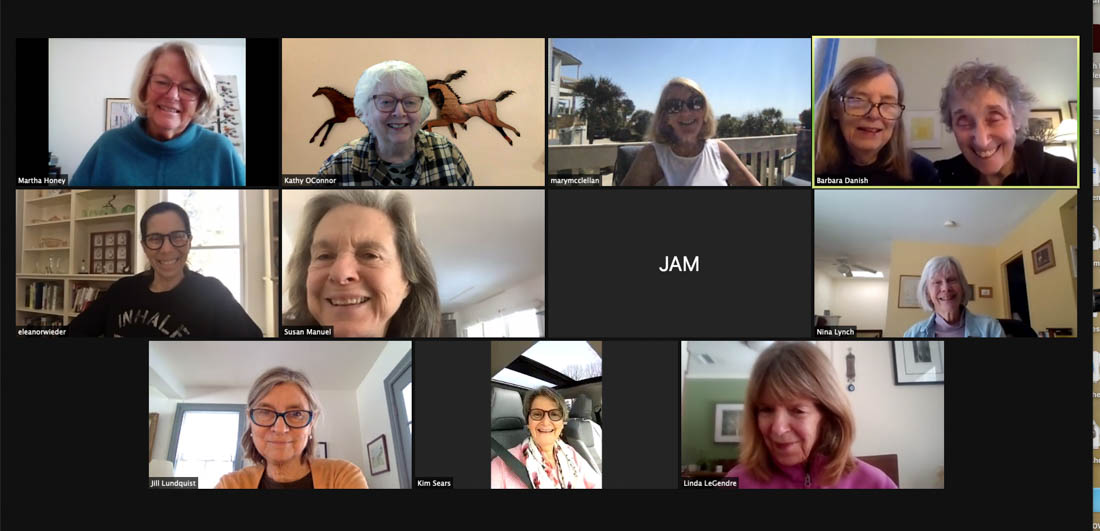 In the spring of 2020, I was quarantined with my children and grandchildren. Without thinking about it, in a conversation, I used the phrase "Are you out of your cotton-picking mind!" My kids (like adult children do) immediately called me out on the origins of the phrase. From that moment of introspection, I began to look more closely at the things I said and the things I believed because they always were that way. I am a CPA by training, and it is typical to look for the big mistakes, but it is equally valid to look for small mistakes that are repeated over and over again. Erasing those, even a few at a time, can possibly make the bigger difference.
I started my reading with So You Want to Talk about Race by Ijemoa Oluo. That led to family book reading and family discussions, and then in the fall, to the decision to register for Bard LLI's Who, Us? racial justice class. I came to class with questions: "If White is the bar you've always had, how do you begin to have conversations with people who aren't White without asking them to make you better? How do you build the muscle it takes to have uncomfortable conversations in the right way?" Once in the class, I found a group of people who each brought their own questions as well as something rich and personal to the experience. Barbara and Laura strengthened and motivated everyone to the highest degree because of their passion, breadth and depth of knowledge, and a high degree of focus on individual contributions!
After watching so many incidents of violence against people of color bookended each time by calls for justice and BLM protests, I was ready for a deep personal understanding of my role in racial inequity. When I saw Who, Us? What White People Can Do to Face Racial Injustice and Build a More Just America in the catalog, I was intrigued. However, I think it was the active verbs FACE and BUILD that moved my finger to the ProClass Register button. I'm accustomed to being stimulated, amused, or astounded by my LLI classes, but rarely called to action. 
Like many of us, I had started my reading that summer, but it wasn't until we began our work in class with close and intensive readings of works by James Baldwin and others, including an article on White privilege, that I realized I was not looking for an understanding but a transformation. I had lived with an unconscious cluelessness, accepting all that was given to me as though it was based on my merit rather than on assumptions made about me because I am White. It was heartbreaking to realize that as a young mother, I dreamt big dreams for my children assuming that the world would "help" me raise them, all while seeing them as good and worthy of assistance. How does it feel, instead, to be a mother who has justifiable fears that the world will see her sweet baby as an angry black woman, a criminal predator, or simply "less than" because of that child's color? Daily, I realized, I need to face my own ingrained biases, implicit and otherwise, or risk "accidentally" damaging another, missing the opportunity to connect with someone, or continuing to endure the self-inflicted wounds of belief in my own superiority. James Baldwin repeats a phrase in The Fire Next Time that has stayed with me: "Because they think they are white…"
By the end of the semester, having worked closely together as a class for those seven weeks, "we" had clearly metamorphosed into WE, and WE weren't done despite what the calendar indicated. Meeting two to four times a month since November, we have continued to read and discuss the need to ACT toward BUILDING opportunities to challenge ourselves and our communities.
For years I've read about racial injustice, feeling helpless about how I might be able to create change. My energy seemed divided between racial issues, climate change, and the dangerous political scene. The circumstances of George Floyd's death brought police brutality to the forefront, and I started reading everything I could find. It still felt too large for me to make a difference on my own. When I saw the Who, Us? class that Bard LLI offered last fall, I waited with my finger on the button to register at the stroke of 9 a.m. The class description sounded compelling, but I could never have predicted the impact this class would have on me.
Presenters Laura Brown and Barbara Danish masterfully immersed us in the "corrected" history of racial injustice, hoping to lead us to action in our own communities and to political changes at the highest level. I read voraciously. The readings and YouTube recommendations for the class were layered, and each issue was repeated from many viewpoints. I can't count the number of times I said to myself, "Why didn't I know this?" For example, why didn't I really understand that policies like redlining and mass incarceration were presented to the public by legislators as something society needed but were actually structured within the ideals and building blocks of White supremacy?
Everyone in the Who, Us? class was impacted. I was drawn to promoting the accurate teaching of slavery, Reconstruction, and all that followed, wanting to expose and upend the policies, practices, and beliefs that keep Black and Indigenous people of color on the bottom of the economic ladder. The course revealed how difficult it is to channel energy into something you don't understand. I wanted kids in high school to have the right information, to go forward without the ingrained biases that deepen as we live our lives. With a leap of faith, I emailed the superintendent of schools in Red Hook, and she responded immediately with a willingness to support ideas for high school students. Several other members of the Who, Us? class jumped in, and librarians from the Red Hook area are helping us to create a community-wide read with discussions of Isabel Wilkerson's Caste and four other books that discuss race, power, privilege, and history. We are inviting students from the Red Hook/Rhinebeck area, Bard College, and any community members, young and old, to discuss racial equity. We're in the planning stages for this event that will happen this fall. We hope attending this discussion makes people want more.
This Who, Us? course has compelled me, with my fellow students, to leverage the courage generated by our exquisite teachers to promote authentic discussions that use historically accurate material to enliven justice practices. Unlike the helplessness I have often felt, I feel awakened to catalyze change, one person at a time.