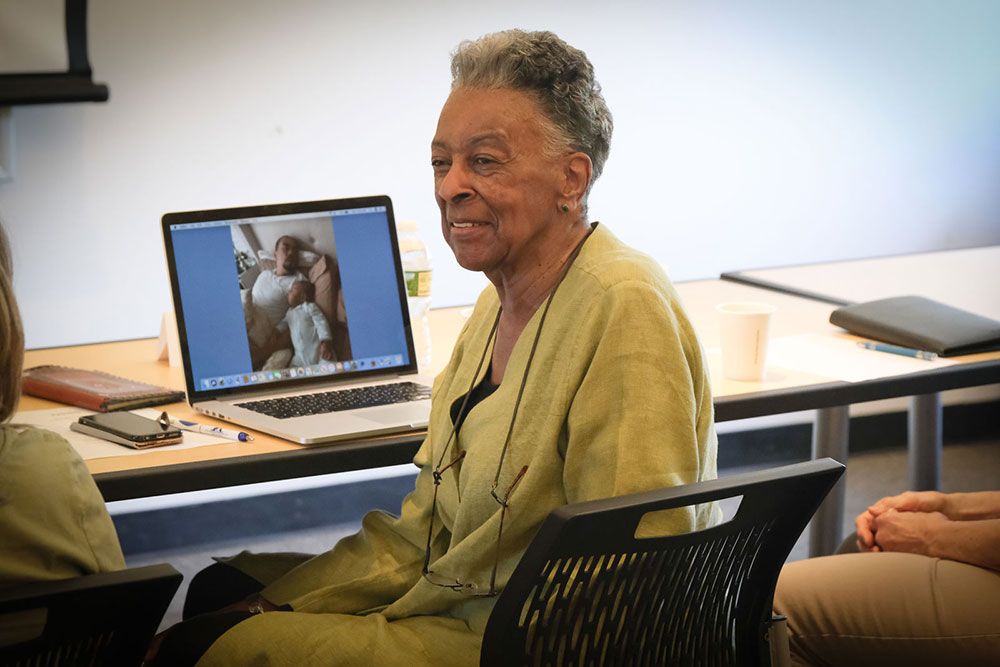 Joyce Carter-Krawczyk Remembers
In February of 2015, LLI President Lou Klein needed to retire to deal with personal issues. Joyce Carter-Krawczyk was unanimously elected by the Council to fill out his term of office until September of 2016. In that time, she accomplished so much. Here is what Joyce remembers.
When Ted and I retired, we decided to remain in our weekend home in Rhinebeck instead of returning to NYC. The closeness to Bard and the Fisher Center made it an easy decision. We learned about LLI from a friend, Henry Young. I do not recall the exact year but I believe we joined in 2011. I volunteered on the Class Support Committee and eventually joined the Council as a member at large. I always choose support instead of leadership roles and I saw the member at large as an area affording me the pleasure of working in a group on various projects. I have taken wonderful classes and have enjoyed learning new things. I also enjoyed my time as president. I reluctantly stepped up when Lou Klein resigned in early 2015. I felt it was what I needed to do as vice president. During that time the Council and I really just finished what he started.
As vice president, I was charged with reviewing the bylaws. Several Council members volunteered to work with me on this much-needed document. Lou had begun to look at LLI's sustainability and how the Council functioned.The program was doing quite well and membership was stable. The initial issue was reviewing the legal aspects of the Council subcommittees. Deficiencies were identified and, of course, needed to be addressed. We had a wonderful overall program and we were truly volunteer run. Bard's professors were generously donating their time, energy, and knowledge by presenting classes.The administration continued to offer support and classrooms. When we asked for other support staff to help they willingly stepped up but we needed to shore up the Council and correct the issues Lou identified.
The Curriculum Committee was successful in getting presenters from our membership and, as always, getting Bard's professors to teach classes. After the Bylaws Committee reviewed and updated the bylaws, we worked on a copyright policy with Bard's support and guidance. We also wanted to experiment with electronic voting and began the task of developing that process. The overwhelming need at that time was long-range planning and we began to develop our first strategic plan. We also needed to explore becoming a division under Bard's umbrella instead of an independent social group on the campus. The issues that we identified were tackled directly. 
We were part of Bard but not really part of Bard. We asked for help from individual programs and divisions when we needed it and we were always accommodated. Our stand was not to rock the boat and maintain a low profile. We did not wish to leave our footprints and were very careful. This changed when I requested a meeting with the Senior Vice President Jim Brudvig. I do not remember when this was done but Stuart Stritzler-Levine, Jill Lundquist, Cathy Reinis and I met with him and other Bard staff. He was welcoming, cordial, and offered help whenever, wherever, and however we needed it. That was not how we perceived our presence, until that day.
He opened the door and we immediately walked through it. Our first strategic plan was developed, and Donna Warner began working her magic. At the same time I feared LLI's history would be lost. Our history—many pamphlets, pictures, newspaper clippings, and other memorabilia—was in members' garages, attics, file cabinets, and storage buildings. I decided to identify an archivist and I began collecting documents for LLI's archives from the founders, Stuart, and long-standing members. The plan, with Council's approval, was to add them to Bard's Archives. I was delighted when the current president deeded them to Bard's archives. Who knew my wish would come true?
I am very proud of what the Council began during my tenure and love the subsequent growth and changes. My other dream of LLI becoming an active division under the Bard umbrella has also happened. We are now part of CCE. It was an honor to serve as president and to work with so many gifted, talented, and dedicated people.
I met some wonderful people on the Class Support Committee, volunteers who worked with me on the Bylaws Committee, and former members of the Council. Also friendships were developed in the classes. We meet in the community for lunches and dinners and some of the other LLI members are "hello" buddies I see in the community. We catch up on what we are doing, classes we are taking, and family issues. LLI remains a wonderful program creating friendships and living the way the founders, Stuart, and the Council envisioned. The founders' plan has been realized and I am happy I was part of making it happen.
LLI's growth is outstanding and the new members continue to make us better. We had a wonderful foundation that new members continue to build on and improve. It's amazing what has happened in 20 years.