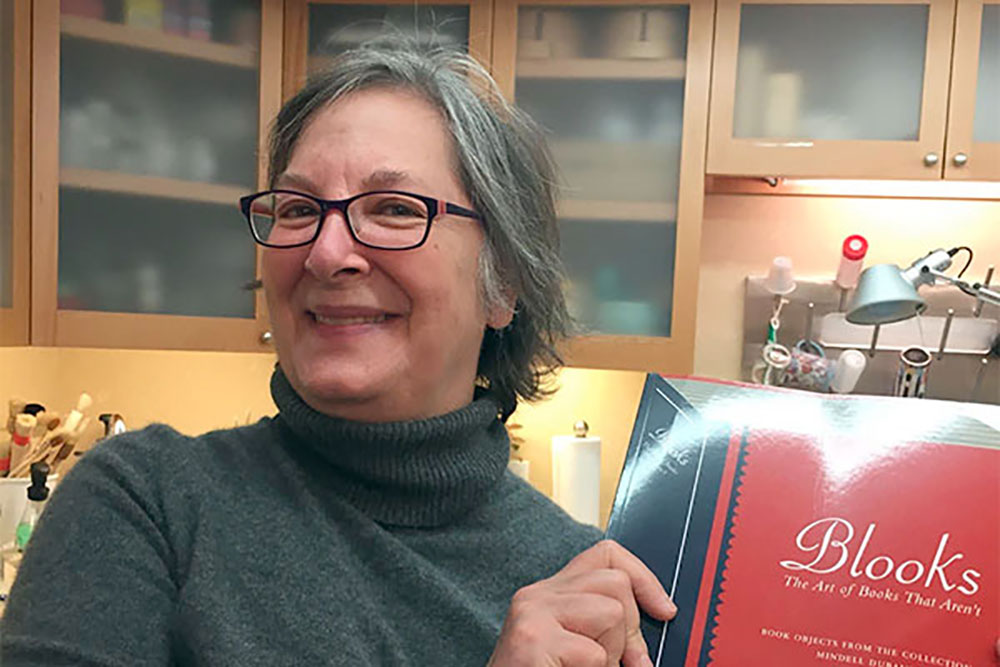 LLI member Mindell Dubansky will give a special Zoom presentation on Wednesday, May 19 at 11:00 a.m. Mindy has had a long career in book conservation for the Metropolitan Museum of Art and is now working on the Bard College Stevenson Library archives. She will be talking about two of her special projects: the amazing Paper Legacy Project, a collection of American decorative papers in the Met's collection, and her private collection of "blooks," which were exhibited at the Grolier Club in New York City, with a smaller exhibit at Stevenson Library in 2016. A blook looks like an elaborate book but is actually a container that might hold anything from a sewing kit to a portable bar. All LLI members are invited to her presentation.

LLI members are also now members of the Friends of Stevenson Library. You can read more about the Friends and their newsletter here. In their newsletter, you will see that LLI's donation helped Mindy to restore a very precious book in their collection.
Here's how Mindy describes her plans:
"My experiences as an artist, book conservator at the Metropolitan Museum of Art, and member of the Grolier Club (a club for book collectors) have imbued me with a unique perspective on the physical nature and history of books, art, and collecting. This has resulted in many original research projects, two of which I will share with Library Friends in this presentation. 
A common goal of all of my projects has been the desire to shed light on a previously unknown or underappreciated aspect of the book and its makers. In this light, I will tell you a bit about a current project for the Museum's Watson Library, the Paper Legacy Project, which documents a golden age of American decorative paper art, 1960s–2000s. An upcoming exhibition of this collection is being planned for 2023. Additionally, I'll share a bit about my personal journey to collect and publish on 'blooks' or book-shaped objects, some of which have been exhibited at the Grolier Club and Stevenson Library."
Mark your calendar for Wednesday, May 19 at 11:00 a.m. to see these beautiful things!