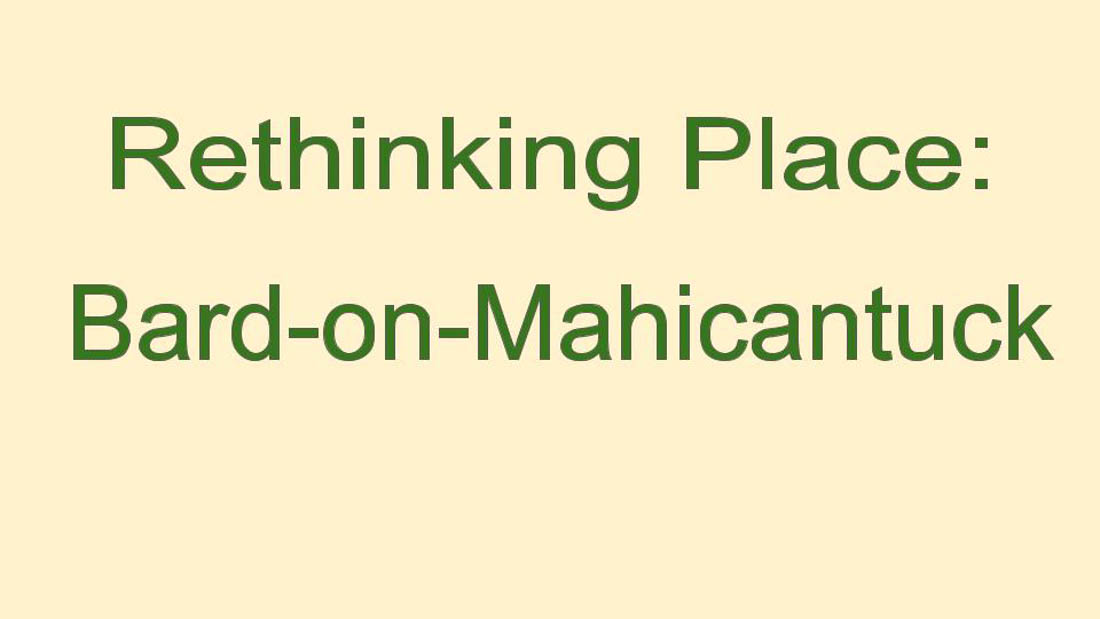 Bard College's Land Acknowledgement Statement was developed in dialogue with members of the Cultural Affairs Department of the Stockbridge-Munsee Band of Mohican Indians. It begins:
"In the spirit of truth and equity, it is with gratitude and humility that we acknowledge that we are gathered on the sacred homelands of the Munsee and Muhheaconneok people, who are the original stewards of this land."
What does it mean to build an American and Indigenous Studies Program with this statement at its heart? How would a collaboration between the original stewards and a committed academic community change the attitudes and trajectories of future generations who inhabit this space? Bard College is embarking on an effort to find out.
Bard College announced in January of this year that the Mellon Foundation had awarded Bard College a $1.49 million grant for its "Rethinking Place: Bard-on-Mahicantuck" project for use over three years in support of a wide range of curricula. The grant is part of the Mellon Foundation's Humanities for All Times Initiative created to encourage the application of the humanities in real-world social justice objectives as envisioned by the colleges selected. Bard College was one of 12 colleges selected out of 50 invited to submit proposals.
Revitalizing Bard's Curriculum
According to Bard's press release, "Rethinking Place: Bard-on-Mahicantuck proposes a Native American and Indigenous Studies (NAIS) approach to a revitalized American Studies curriculum and undertakes an expansive understanding of land acknowledgment that goes beyond addressing a single institution's history in regards to Native peoples. Through annual conferences, reading groups, workshops, and in fostering collaboration between faculty and students within Bard and across regional peer liberal arts colleges and engaging with the Stockbridge-Munsee Band of Mohican Indians whose homelands these schools are in, Rethinking Place emphasizes community-based knowledge, collaboration, and collectives of inquiry."
The Mellon Grant proposal was written by Dr. Christian Crouch, Dean of Graduate Studies and Associate Professor of History and American Studies, Principal Investigator, and Dr. Peter L'Official, Director of the American Studies Program, Project Coordinator. The steering committee also includes artist-in-residence Krista Caballero, Co-director of the Center for Experimental Humanities, Dr. Eli Dueker, Associate Professor of Environmental and Urban Studies, and Visiting Assistant Professor of American Studies, and master barber Joshua Livingston.
Connection with Environmental Science
Dr. Eli Dueker is the head of the Center for Environmental Sciences and the Humanities and is faculty in the Biology and Environmental and Urban Studies programs. Some of his research focuses on the microbial connection between water quality and air quality in freshwater, estuarine, and marine systems. Dr. Dueker reflected on what might, at first glance, seem like an odd connection between his department and American and Indigenous Studies. His explanation sheds light on part of the journey that "rethinking" requires.
"We were included in the grant because we have done a lot of work trying to investigate, what does science mean, really? And what does the relationship between science and community mean? We have this tendency from the Western approach to see science in a certain way—as numbers and facts achieved through the scientific method. Through this, we create rigid ideas of what is science and what is not. But the science that we have developed in just a couple of hundred years through 'modern' science is nothing compared to the scientific knowledge of the communities that have lived (and continue to live) here for thousands of years. I think, as a scientist, it's really important to realize that there are different ways of knowing, different ways to be a scientist."
Dr. Dueker described rethinking the problems of climate change, water use, and environmental equity using a stewardship lens, looking at Indigenous realities and priorities so we can be more expansive in the ways that we understand environment and science's role in protecting it. "We look forward to increased engagement with Indigenous leaders and scholars, particularly the Stockbridge Munsee leadership, as we move forward on this path."
Programs, classes, and speakers are being considered, drawing on both existing Bard faculty and new postdoctoral and post-baccalaureate researchers, who will work on independent projects as well as curricular development. Areas of rethinking include signage, the archives at Montgomery Place and the Stevenson Library, and other "classic" reading materials, as well as art, food, and language. Applications are being solicited for funding and research support for undergraduate students and faculty engaged in summer and academic-year research. Students, staff, and faculty are also invited to propose interdisciplinary reading groups about a broad range of fields and topics including, but not limited to Native American and Indigenous Studies, Enslavement/Reparations, Latinx/immigration, and Humanities-focused environmental justice topics. Themed annual conferences and public lectures will make the work of Rethinking Place accessible to the wider county and regional community.
LLI's DEI/Social Justice Team is particularly interested in these areas of study. That Team will keep LLI membership apprised of the various lectures and other events that evolve from the Rethinking Place project. We have much to learn from those who were, are, and will continue to be stewards of their homelands.