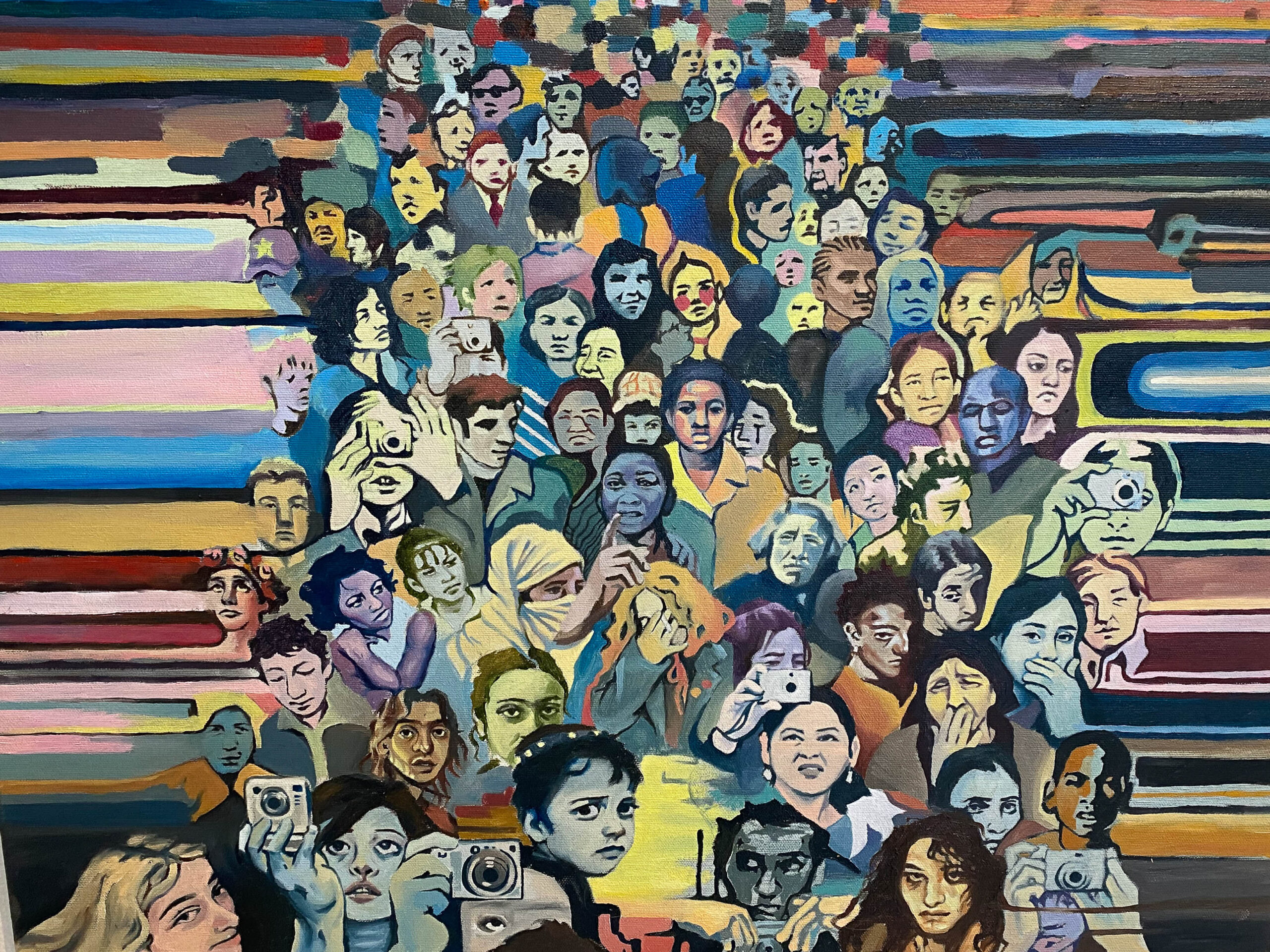 Many of us in Bard LLI know little about the variety of programs at Bard College, some of which our LLI dues help to support with small annual contributions. One is the Bard Studio Arts Program, which receives financial help from us through Bard's Fund for Visual Learning. The fund supplies art kits (basic materials needed to make art) and helps cover senior project costs. LLI members who want to know more about what Bard Studio Art students are creating can click here to find out about attending one or more upcoming Senior Project exhibitions happening in April or May.
Where is Bard Studio Arts?
Do you even know where the Studio Arts building is located on campus? I didn't until tipped off that it has the closest available restrooms to Bard Hall, which (spoiler alert) has no such facilities. The Richard B. & Emily M. Fisher Studio Arts Building is located between Bard Hall and the Bard Admissions building. Other large buildings in the Town of Red Hook are leased for additional Bard Art studio space and will be the main locations for the Senior Studio Arts Exhibitions in April and May. 
What is Bard Studio Arts?
A one-sentence summary of Bard's Studio Arts program from the Bard College literature reads, "In an era when much contemporary art cannot be contained within the traditional categories of painting and sculpture, and when technology is transforming the production of visual images, the Studio Arts Program at Bard has expanded the breadth of its offerings while retaining a strong core of courses that provide a firm grounding in basic techniques and principles." The message reads loud and clear that this Studio Arts program is much broader than one might think. Bard's Studio Arts Program offers dozens of classes and is attended by hundreds of students. Bard requires all students to take a certain number of practicing arts classes, of which Studio Arts is one, regardless of the student's declaration of an anticipated major at the end of sophomore year. Nayland Blake, current Director of the Bard Studio Arts Program, along with Daniella Dooling, Co-Director/Artist-in-Residence, Bard College Studio Arts, views the practicing arts requirement as wise, because "All students, regardless of a primary area of study, will know what it takes to make something creatively and, hopefully, will be more well-rounded learners."
Studio Arts Moderation Exhibition
I met with Nayland, a former Bard student with a lengthy resume of experience in the arts, including teaching, curating, and exhibiting. It was a late Friday afternoon, just before a week's break from classes. The Studio Arts building was full of students and faculty, happily munching snacks and viewing drawings, paintings, clay pieces, and installations in the annual Moderation Exhibition by Bard students who are in the process of moderating into the Studio Arts Program as a major. During our chat Nayland emphatically stated, "An art education absolutely DOES prepare students for the real world! Art teaches flexibility, creativity, and inventiveness, all of which will be continually valuable in life." Blake also emphasized that Bard's Art Program is unique because all classes are taught by working artists who teach art and how to "live the life of an artist." 
LLI members can support the Studio Arts program in several ways:
In the fall, usually around Bard parents' weekend in late October, you can purchase student or faculty art at a fundraiser auction organized by the Bard Fund for Visual Learning. 

You can donate leftover unused art materials that are taking up space in your house (colored pencils, paints, brushes, paper, etc.) to a newly established Studio Arts "Materials Bank." (Call the Studio Arts office at 845-758-7674 for info about how to donate.)

And, perhaps MOST importantly, you can click here and come to a

Bard Studio Arts Senior Exhibition

.

Students will be there on opening dates, and exhibitions will each run for a week or more. Ellen Driscoll, a former director of the Bard Studio Arts Program, strongly suggests that exhibition attendees TALK to the artists, if present. "Don't be shy! They are undoubtedly shyer than you!" Nayland Blake says not to worry about getting a piece of art "right." Think "What does this remind me of? Ask questions and have a conversation."