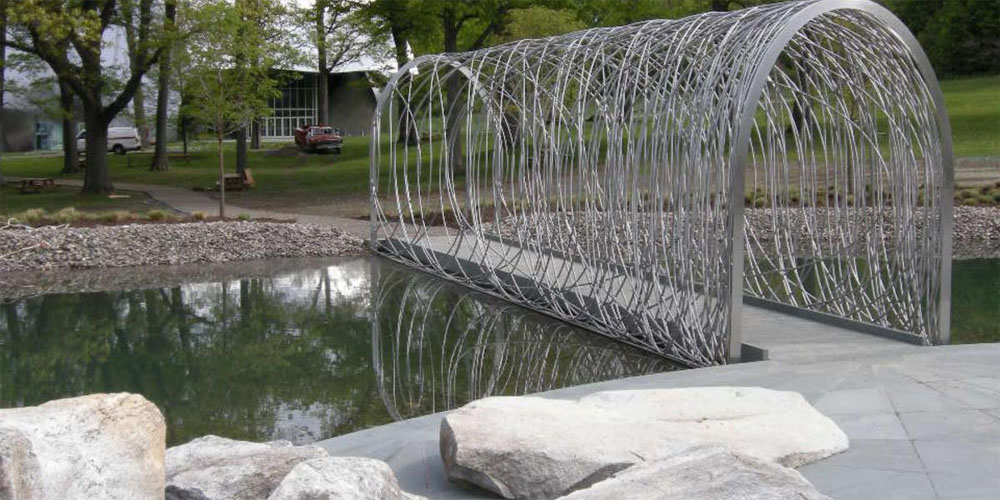 You will find The Parliament of Reality in the large meadow in front of the Fisher Center. It is perhaps the most well-known piece in the Bard College collection of outdoor sculpture. Created by Danish-Icelandic artist Olafur Eliasson in 2009, this large installation was inspired by the original Icelandic parliament, one of the world's earliest democratic forums.

It appears as a floating island entered through an arbor tunnel.  Depending on your mood, the glimmering metal tunnel may transform itself into razor wire, a Slinky toy, silver lace… or the arched entryway to a cloister. The bridge is at water level, and the mirror-like reflection in the surrounding pond makes it appear even larger than it is. The ripples give movement to the stationary bridge. Goldfish and other carp and tadpoles swirl about.

Meanwhile, a chorus of shrieking and trilling frogs fills your ears. The frogs are perched everywhere around the island and clinging to its edges. They look you straight in the eye and never stop singing.

There are large (though uncomfortable) rocks to sit upon, like those found along the northern Atlantic coast. Some of the rocks resemble big fish, or a seal, or a beached whale. There is a sense of isolation here in the middle of the large surrounding field, perhaps offering a place to think, to ponder, to deliberate.

The Parliament was commissioned by the Bard Center for Curatorial Studies with support from the Luma Foundation.