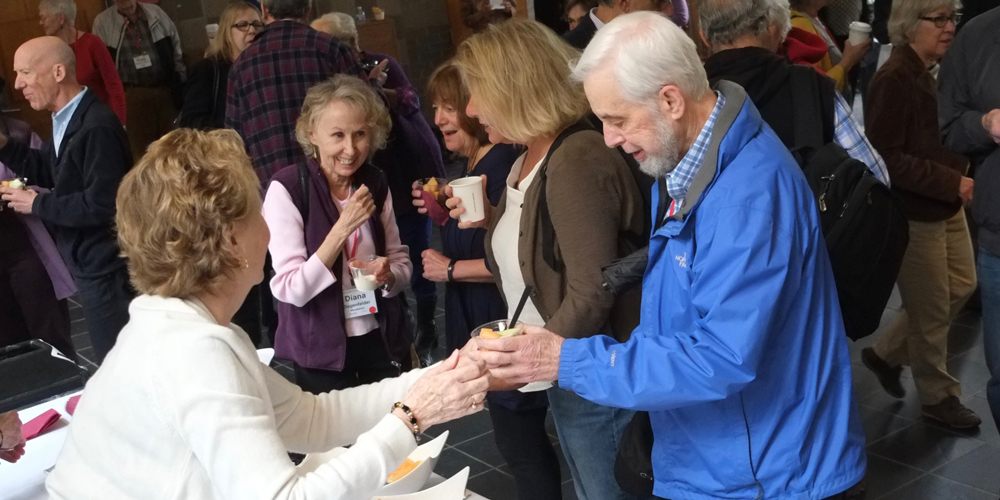 Thank a participating member
Did you enjoy your classes in the spring and in SummerFest? You can say thank you to the many, many members who make LLI work. As we plan for our Fall semester, please join our wonderful participating members in contributing to LLI.
Just take a look at how many of us were involved!
Spring
Carol Bassin
Steve Bassin
Arlene Becker
Susan Blacker
John Ferguson
William Goldman
George Jahn
Annie LaBarge
Alan Lipper
Nina Lynch
Paul McLaughlin
Gary Miller
Chuck Mishaan
Lauren Piperno
Anne Richey
SummerFest
Timothy Allanbrook
Dale Bernstein
Patrick DeHaven
Linda Legendre
Chuck Mishaan
D. Michael Simpler
William Tuel
Michael Weinstock
AV Mentor Team
Co-Chairs: David Jutton and Gus Pedersen
Chuck Mishaan
Dan Peterson
Fred Roe
AV Class Support
Nora Adelman
Kathleen Heitzmann- Balthazar
Jerome Bankowski
Dale Bernstein
Susan Christoffersen
Rich Davis
Mary Deady
Patrick DeHaven
Felice Gelman
Phyllis Heiko
Ollie Johnson
Susan Katz
Nanci Kryzak
Martin Kutikoff
Kathy OConnor
Dale Sorenson
Karen Spinozzi
Bill Tuel
Lisa Tumbleson
Dale Ziegenfelder
Chair: Bill Tuel
Deborah Lanser
Grace Murphy
Margaret Shuhala
Betsy Tuel
Class Support Committee
Chair: Carol Goss
Elaine Habernig
Maxine Kamin
Ann Miller
Merrill Mishaan
Class Managers
Nora Adelman
Kathleen Balthazar-Heitzman
Johanna Bard
Al Becker
Nancy Bendiner
Karen Bodie
Anne Brueckner
Neall Burger
Dorothy Burns
Eugene Burns
Susan Christoffersen
Donn Critchell
Jane Diamond
Renee Englander
Irene Esposito
Prudence Garcia Renart
Elaine Habernig
Phyllis Heiko
Karen Heusel
Susan Hirsch
Ollie Johnson
Maxine Kamin
Prema Kaye
Joanne Keller
Janet Kettler
Roberta Kistler
Carol Kleban
Thaddeus Krawczyk
Deborah Lanser
Steven Lanser
Linda Legendre
Ann Leheny
Carole Lieb
Nina Lynch
Susan Manuel
Ann Miller
Margaret Moran
Lenore Nemeth
Kathy OConnor
Jackie Olivet
Evan Quimby
Susan Rohrmeier
Susannah Satten
Barbara Schoenberg
Joseph Schoenberg
Stacey Siegel
Diana Sofroney
Gloria Sumner
Ellen Waggener
Jan Wallen
John Watterson
Jonathan Wechsler
Serita Winthrop
Marcie Woodruff
Dale Ziegenfelder
Diana Ziegenfelder
Cathy Reinis, Chair
Felice Gelman
Deborah Lanser
Jill Lundquist
Susan Manuel
Dona McLaughlin
Gary Miller
Chuck Mishaan
Kathy OConnor
Deborah Schwartz
Kim Sears
Margaret Shuhala
Curriculum and Special Events
Anne Sunners, Chair
Irene Esposito, Secretary
Regina Armstrong
Dorothy Baran
Bob Blacker
Anne Brueckner
Gene Burns
Jane Diamond
Ellen Foreman
Susan Hinkle
Dacie Kershaw
Linda Legendre
Emily Michael
Merrill Mishaan
Margaret Moran
Cathy Reinis
Linda Scherr
Margaret Shuhala
Bill Tuel
Leslie Weinstock
Chair: Ollie Johnson
Al Becker
Harvey Monder
Chair: Irene Esposito
Barbara Alexander
Susan Christoffersen
Kathleen Hanzl
Janet Junge
Martha Nickels
Rosalie Rossi
Anne Sunners
Serita Winthrop
…and all those who contributed money and treats
Chair: Robert Inglish
Barbara Burns
Susan Christoffersen
Mary Deady
Kathleen Evans
Nanci Kryzak
Fran Myers
Linda Stanley
Linda Still
Maddie Watterson
Jill Lundquist, Chair
Linda Bouchey
Mary Deady
Tom Esposito
Susan Hirsch
Nanci Kryzak
Chuck Mishaan
Deborah Schwartz
Anne Sunners
Technology and Registration
Chuck Mishaan, Chair
Susan Christoffersen
Deborah Schwartz
Bill Tuel
Tom Esposito, President
Al Becker 
Linda Bouchey
Mary Deady
Susan Hirsch
Ollie Johnson
Nanci Kryzak
Jill Lundquist
Chuck Mishaan
Cathy Reinis
Deborah Schwartz
Anne Sunners
Maddy Watterson