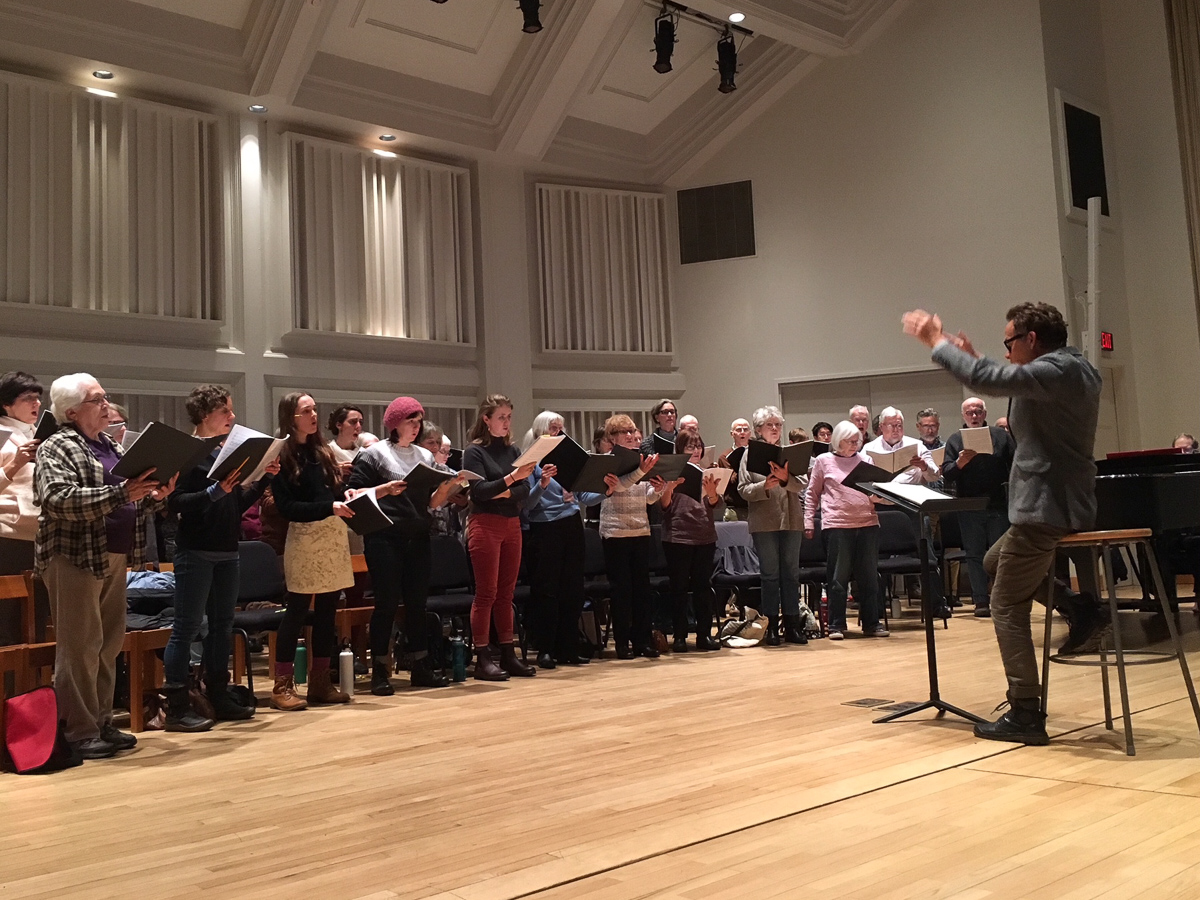 Join the Bard College Community for Winter Songfest
Fisher Center, Sosnoff Theater
Sunday Afternoon on December 15, 2019
Every December in the Hudson Valley ushers in a variety of performances, holiday markets and other activities to launch the community into a festive mood. Bard's "Winter Songfest" is a delightful part of this joyous season.
This will be the fourth year that members of the Bard College Music Program and the Bard College Conservatory of Music will collaborate to bring a rousing and varied program, directed by James Bagwell, under the title " Winter Songfest." Bagwell, who is coming up on 20 years at Bard, has worn many hats as Professor of Music at Bard, including Director of Performance Studies and the Graduate Conducting Program at the Bard College Conservatory, associate conductor of The Orchestra Now (TON), and conductor of numerous choruses.
Winter Songfest has now been deemed "A Bard College Tradition." The audience will hear representatives from all parts of the Bard music program singing and playing. What makes this family/community event extra special, says Bagwell, is that it is BIG, with lots of performers on stage and a full concert orchestra, giving the audience a true taste of the range of the Bard Music Program. Performers from Bard will include the Chamber Singers, Symphonic Chorus (which includes some members of LLI), members of the Graduate Vocal Arts Program, Conservatory Orchestra, Community Orchestra, and TON.
From "Nutcracker" to "The Pickled Boys"
The concert program will bring many familiar favorites from orchestral pieces like Tchaikovsky's Nutcracker, Jessel's Parade of the Wooden Soldiers, and the beautiful choral movement "Dona nobis pacem" from Bach's Mass in B-minor. The longest part in the program, however, will be Benjamin Britten's Saint Nicolas, a cantata that covers, in a nine-part dramatic sequence of events, the legendary life of Saint Nicholas, Bishop of Myra, Lycia. Part VII of the cantata is entitled "Nicolas and the Pickled Boys." You may want to come just to find out what that is all about. 
Stephanie Blythe, the new artistic director of the Bard Conservatory Graduate Vocal Arts Program, will also be performing and, if you know anything about her, you know she will be a showstopper. There will, of course, be some audience participation (so be prepared) and, undoubtedly, some surprises.
This concert, which starts at 3:00 p.m., will last about an hour and a half. It tends to sell out, so get tickets soon. Tickets are $20 each and there will be assigned seating. Call the Fisher Center Box Office at 845-758-7900 or go online at fishercenter.bard.edu to purchase tickets.