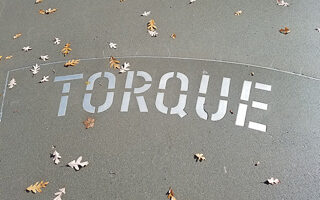 A zig-zag of letters pave the way into the Hessel Museum at the Bard Center for Curatorial Studies. These letters present a poem, an art installation, or, as CCS director Tom Eccles suggests, a metaphor for the art of curating.
The poem is composed of a stainless steel alphabet embedded in the broad concrete sidewalk leading up to and entering the building, providing visual continuity between the interior and exterior. (In wet weather, the letters on the inside are half-covered by rubber matting.) 
Postminimalist Conceptual Art
This site-specific floor sculpture, created by Lawrence Weiner, was commissioned by the Marieluise Hessel Foundation in 2006. Weiner is regarded as a founding figure of postminimalist conceptual art in the 1960s. His work often takes the form of typographic texts.
The poem appears in a shiny, burnished font in a broken stencil style. The coloration of the letters subtly changes with the direction of the light, from dark grey to silvery to whitish to yellowish. The words are puzzling, provocative (and sometimes hard to read).
WHATSOEVER
INTERSECTING THINGS
BRICKS
STICKS
TORQUE
BRICKS ENOUGH TO FORM AN ARC
NOT QUITE AS LONG AS A PIECE OF STRING
TORQUE ENOUGH TO TWIST
A LIVE WIRE NEAR ENOUGH TO ANOTHER LIVE WIRE TO ARC A SPARK
STICKS ENOUGH TO BRIDGE
THE ENDS OF THE EARTH
INTERSECTING THINGS
RIPPED ASUNDER
WHATSOEVER
CUSPED TO MAKE A POINT
…A PIECE OF STRING
…LIVE WIRE TO ARK A SPARK
STICKS ENOUGH TO BRIDGE
THE ENDS OF THE EARTH