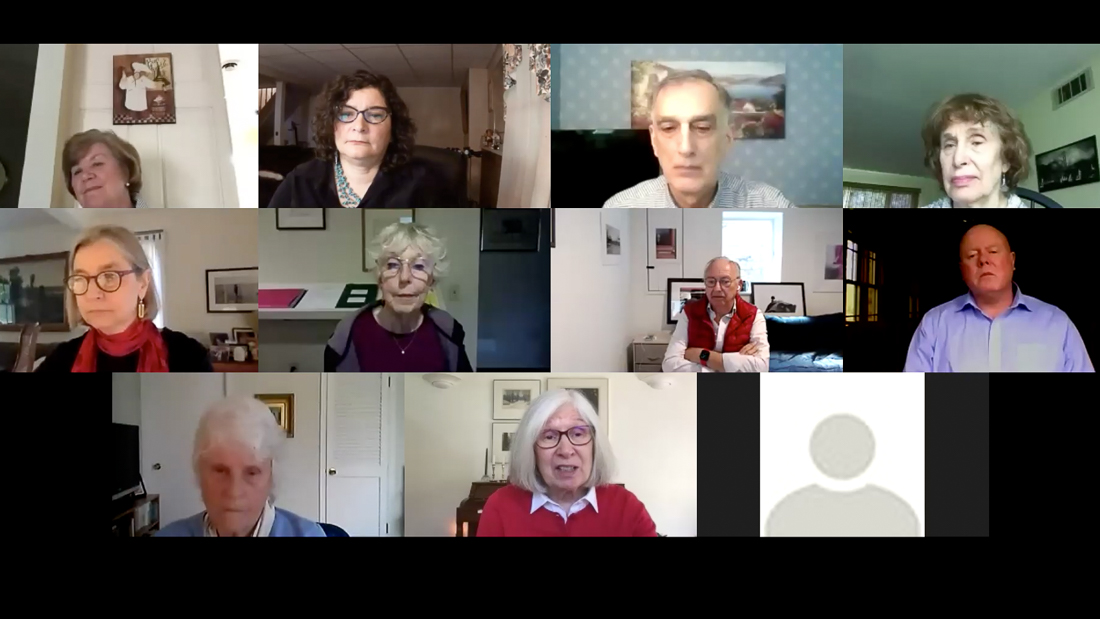 Bard LLI successfully held its first annual meeting via Zoom on May 15 thanks to the extraordinary skill and dedication of the LLI Online Task Force. In a remarkably short time, the Task Force was able to organize the meeting, train speakers, invite members to attend, and encourage audience participation, all while making their efforts look easy. The 95 attendees were engaged, asking more than 50 questions.
Old and New Council Members Spoke
In his opening remarks, outgoing president Tom Esposito applauded the skills and dedication of the many volunteers who keep Bard LLI running. Incoming president Nanci Kryzak assured the members that given the solid foundation of our organization, we can look forward to a positive future, despite the uncertainties associated with the need to stay off campus. Newly elected Council members Robert Beaury (treasurer), Linda Stanley (1st vice president), and Marge Moran (member at large) spoke of their commitment to helping LLI maintain its standards of educational excellence and organizational efficiency. Anne Sunners thanked Tom for his calm, steady leadership while we instituted technological upgrades and dealt with the unexpected difficulties resulting from the coronavirus pandemic.
Outgoing treasurer Susan Hirsch presented the budget for 2020/2021. We have a cash reserve of approximately $67,000, partly from member fees and partly through a generous $10,000 bequest. She noted that having the funds available enabled us to purchase a Zoom license, which will be used for online classes and meetings, and ProClass, which will improve our organizational capabilities. Our money has also been used to rent space on campus for social events and to donate to Bard in appreciation for all they do for us. Upon a vote taken electronically, 93% of attendees approved the budget.
Tom concluded by noting that one of the many benefits of LLI is the opportunity to make friends with so many interesting, talented people. Maintaining our sense of community will be hampered by the need to stay off campus for a while, but we can all look forward to sharing classes and meals and social events once the current restrictions are lifted. He thanked the Council and committee and team members he's worked with for their generosity in donating their time and expertise to meeting the standards of LLI.