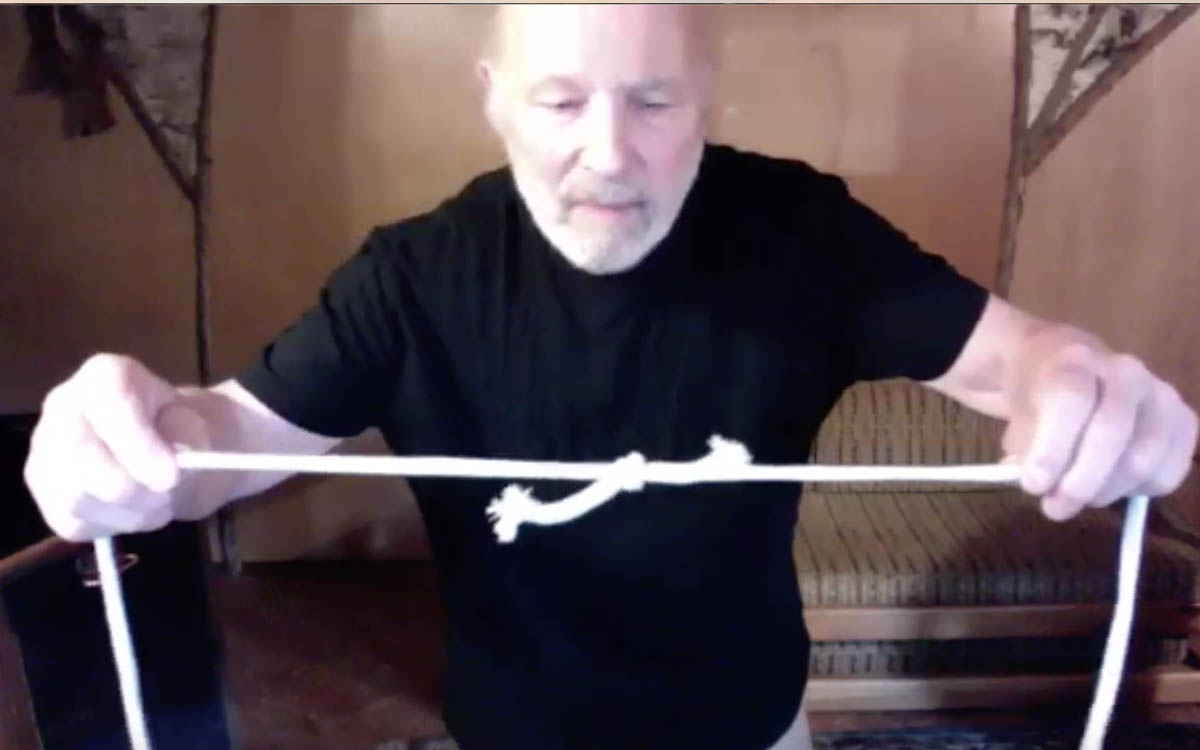 Fingernail-biting anxiety might have been a good way to describe the feelings of the LLI Council and class producers when the decision was made that our annual meeting and SummerFest would have to be online. This was a whole new world. A lot of work and dedicated volunteering went into making it work, but now we are prepared for a full fall semester of online learning.
An ad hoc committee, co-chaired by Carmela Gersbeck and Susan Christoffersen, was formed to investigate the technology and, then, to make it work. This was no small feat. As Carmela says, "Every time you do it, you get better. We had a rehearsal every day." The annual meeting was the first priority. Jeff Christensen, who has had experience as a technology project manager, led the team that created the annual meeting webinar. The success of the annual meeting, with 96 people signed on to Zoom was truly encouraging but it was clear many more people would be needed to manage the SummerFest Zoom class sessions. Eventually 13 people signed on as session managers. (Note: LLI will be needing even more session managers for our fall semester. To volunteer, send an email to either [email protected] or [email protected].)
In May, the committee worked with the presenters, providing written training materials, hands-on advice, and live rehearsals for each class. The session managers needed to learn what the presenter wanted the class to see — PowerPoint slides, YouTube videos, etc. — and they advised the presenter on things like the best lighting and camera angles for what they wanted the class to see. Andy Weintraub, teaching Magic for the Family, said, "I had never done anything online except for meetings. Al Gersbeck (session manager) and I had a number of sessions and also a trial session with a few people before the classes started. That helped a lot. I have a whole list of possible tricks I can do online and teach. But some I had to cross off because when I rehearsed them myself in front of a camera, I saw they won't work."
As you might expect, the challenges are very different for a small, highly interactive class and a large lecture class. Anique Taylor, who has been teaching Writing Poetry, said, "A major concern for me at first was the amount of intimacy possible while being online. We go very deep in my class. But I don't feel it has been compromised. What I wanted was to bring everything that I could from an in-person class. I think the writing exercises work really well. I can see people's faces. They jump right in and people are so brave." And she added, "I have to drive 40 minutes to get to Bard so, in some ways, this is a better option for me!"
"The larger classes are definitely a challenge," Michael Simpler, a session manager for the Science Potpourri class, felt. The two major issues are how to handle questions and how to get participants to the point where they know how to use the features of Zoom. "SummerFest has been something of a test. We're elated it works as well as it does," he added.
Veteran presenter Chuck Mishaan, in his Opera As Politics Class, said it took him a little time to learn to navigate between PowerPoint, YouTube clips, streaming videos, and the gallery views of class participants, but with practice, things went well. "I'm actually enjoying the Zoom technology. With the gallery view, it's very easy to associate names and faces. Now I'm not just looking at a darkened room." He found the chat an excellent way to handle class participation. "I was afraid it would be very stiff, but I found there are ways to interact on Zoom. I felt very natural. I was very pleased."
In the smaller classes it's easy to interact more directly. Linda Still, the session manager for Writing Poetry, said, "It's wonderful that everyone shares their work in this warm, welcoming space. There's no real tripping over each other. Somebody begins, then the next person will go. People are polite and they wait to see if someone wants to speak. Only one person can speak at a time and people are used to the idea of sharing and being a bit patient."
A Few Tips for Participants
The session managers and presenters met repeatedly over the weeks before SummerFest began and rehearsed every class to iron out any technical issues and to make sure the presenters were comfortable with Zoom but, with so many participants, there are sure to be some problems. People attending classes generally did not have the advantage of rehearsals to learn Zoom, although some of the smaller classes did meet ahead of the formal sessions to make sure everyone was on board with the technology.
Each class has been open for 15 minutes pre-class to make sure everyone is signed on and can participate. The session managers all emphasize that class participants should take advantage of this opportunity to make sure they can hear and be heard and, in the case of the large classes, be admitted from the waiting room before class starts. So even if you're still finishing your coffee, sign in early. You can always step away and return for the start of class.
Don't forget to mute yourself! Any background noise — your phone or doorbell ringing, your dog barking — is communicated to the whole class (and you will be highlighted by the video so there's no anonymity for the disruption).
Remember, you are on camera. If you are eating breakfast or folding your laundry, or you need to step away from the screen to answer the door, you might want to turn your video off! That way you won't distract the class or the presenter.
If you are having problems connecting—the video freezes or you can't be heard—first try turning off your video. If that doesn't work, you may have to leave the meeting room and return.
Finally, be patient. As session manager Michael Simpler puts it, "We want to be inclusive and we find a wide range of digital expertise in the membership." We are all learning.