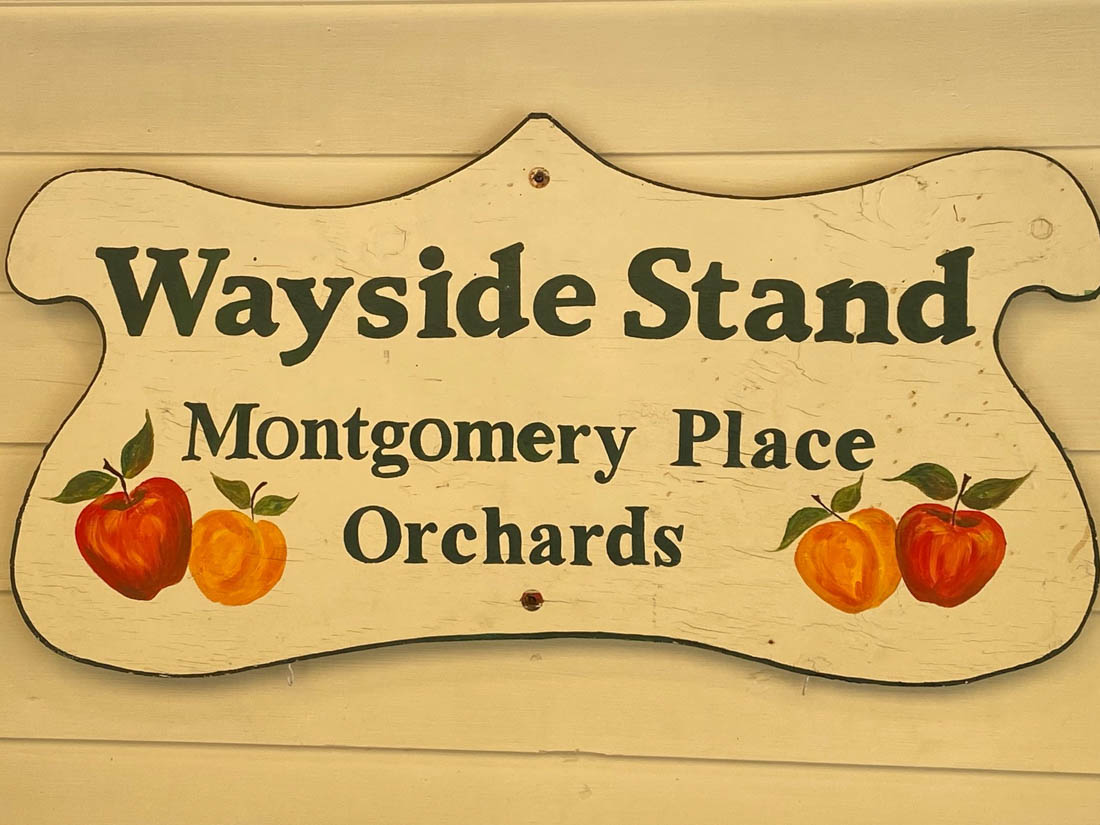 Montomery Place Orchards Wayside Stand
This family-operated treasured farm stand, located just north of Rt 199 on 9G in Red Hook, is celebrating its 34th year of providing high quality produce to local folks and area visitors. Talea and Doug Taylor and their daughter, Caroline Fincke, comprise the family, while a small group of Jamaican seasonal workers and younger employees who attend the stand are considered part of the family team. They offer apples and other produce directly from the farm, as well as many other local food products. The stand opened in late June and will operate through Thanksgiving.
The Wayside Farm Stand has a well-founded history dating back to the cultivation of apple orchards on Montgomery Place in 1802 to the early 1900s by Janet Livingston Montgomery, widow of General Richard Montgomery. The estate was then bought by the Delafields and expanded to a larger operation, selling apples in bulk to a variety of purchasers. Trucks and roadside informal displays of produce for sale in rural, beautiful Dutchess County became popular stops for people escaping cities to the south for day trips. One of the Delafields, Viola White, decided to create a more attractive farm stand. Her design was displayed at the 1935 Dutchess County Fair and was acknowledged by First Lady Eleanor Roosevelt in one of her famous columns. It still can be seen as part of the farm stand structure today. The Montgomery Place farmland was then worked and leased from Historic Hudson Valley by the Taylors for many years. Today the Taylors have a good working partnership with the farm's newest owner . . . Bard College.
Some of the Produce for Sale
The types of produce and variety of local products on sale at the farm can change day by day and even hour by hour. In a recent conversation, Caroline Fincke shared that the stand is sometimes known internally as the "Inconvenience Farm Market" because what is available to buy can be quite changeable. New loads of different items are often coming in every hour as they arrive from the fields, freshly picked. The staff is constantly hustling to get recently delivered goods out on display. She says that customers need to, perhaps, be flexible, as they may not find exactly what they are looking for but then discover many items that they absolutely need. Produce carried at the stand includes tomatoes, squashes, potatoes, onions, cucumbers, carrots, peppers, peaches, watermelons, corn, plums, blueberries, raspberries, salad greens, herbs, flowers, mushrooms from Tivoli Mushrooms (owned by Caroline's husband, Devon Gilroy), and close to 90 types of apples. 
Farm Kitchen and Local Items
Jams made in the Montgomery Farm kitchen and local honey are for sale, as well as the very popular loaves of fresh bread from Tivoli. In a cooler in the back customers can find fresh basil, pesto, applesauce, grass-fed milk and yogurts, and a huge selection of local cheeses. Although the famed Montgomery Place Apple Pie Contest will not be held this year due to pandemic restrictions, in the fall the farm stand will be carrying apple cider donuts and apple ciders made in the farm kitchen.
The stand is open Wednesday through Sunday from 9:00 a.m. to 6:00 p.m. Bring a mask, cash or credit card, a bag or box and . . . an open mind.