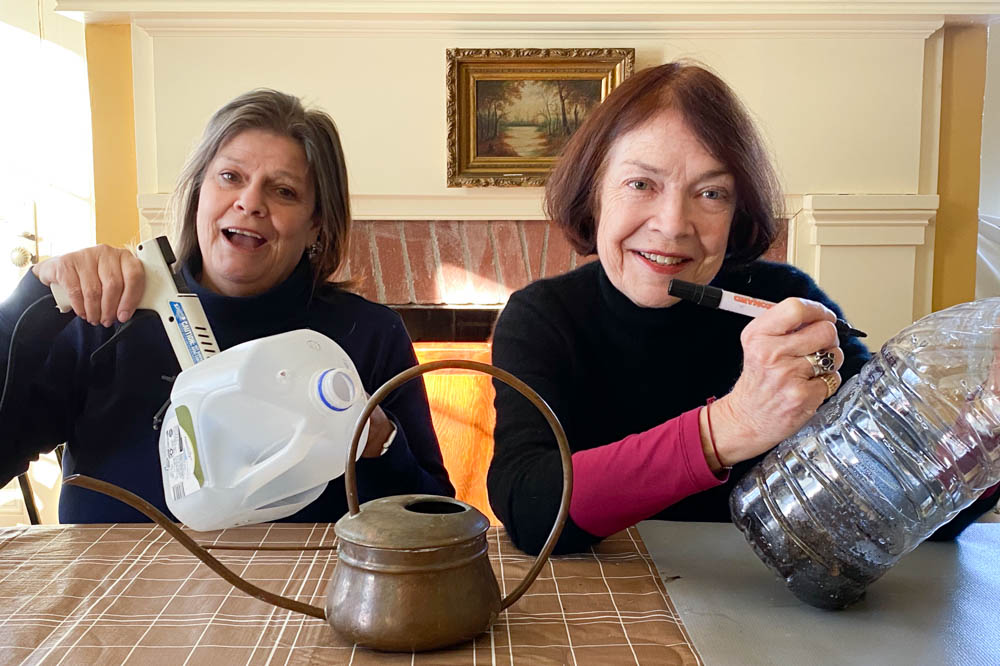 As Susan Hinkle and Deborah Barrow told us at the Winter Sowing Social Gathering on February 18th, February is a wonderful time to start growing your hearty fruits and vegetables. It just takes a bit of know-how, an abundance of enthusiasm, and a touch of humor.
Susan and Deborah, friends and neighbors in Rhinebeck, broke down the steps needed to turn each of us into a successful winter sowing wannabee in a lively and fun-filled hour.
Let's point out the essentials to get your winter greenhouse growing. You need planting containers (greenhouses), a cutting instrument, a piercing instrument, soil, seeds, a watering container, and something to put your greenhouses in that will keep them somewhat elevated so they can drain. Oh, and duct tape to keep your greenhouse closed, plus a marker to label the contents of your greenhouse. For the marker, Susan recommends a horticulture pen that will weather the elements available at the Rhinebeck Artist Shop.
There is no limit to the number and type of plastic containers you can use to serve as a greenhouse for your germinating operation. Susan admits to having developed a long-standing arrangement with the manager at her transfer station. After she was discovered dumpster diving in the recyclables, Susan and the transfer manager developed a mutually agreeable barter agreement. He saves the containers he knows will be useful for her gardening purposes, and she brings him homemade cookies.
Deborah pointed out that even the supermarket rotisserie chicken containers will work. The soil will be a little shallow, but a good number of seeds can still thrive in that environment.
Susan puts about eight drainage holes on the bottom of each container, then about four holes up one inch from the bottom. These holes are for water drainage. Then she puts about a dozen randomly-spaced holes in the top section to allow for ventilation. And if your container originally came with a top (like a soda bottle or water bottle), be sure to leave that off.
Susan has a piercing instrument that looks a bit like a fondue fork to make these piercings, but I particularly liked Deborah's approach to using a glue gun without any glue. 
Choose one side of the container for your hinge, and make a level slice around the rest of the container about 3-4 inches from the bottom. (Use scissors or a box cutter to do this.) 
Once you have your holes completed, and your container hinged, put a single layer coffee filter on the bottom of the container to prevent your soil from spilling out (optional).
It is recommended that you make a planting medium made up of half potting soil with vermiculite and half seed starting mix (I'm told that this essentially is peat moss).
You want to use regional seeds developed for our area – technically a 5b type. If you're planting vegetables, Susan would recommend organic. Hudson Valley Seed Company is a respected source of regional seeds, and they help sustain local artists who design their seed packet covers.
Morton Library in Rhinecliff has a seed swap annually, and there are numerous other resources that Susan has provided. (You must CLICK HERE TO VIEW.) 
Read your seed packet thoroughly for all sorts of information. The seed packet will tell you when you poke a hole in the soil and place your seed in it, whether or not to cover the seed with soil. Some seeds need sun in order to germinate. The packet will tell you when you can hope to see signs of life. (Some perennials take a whole year to bloom.) 
Once your seeds are planted, gently water the soil in your greenhouse. Label your greenhouse and place it outside in a container (such as a milk crate), so that it is elevated and can drain.
Susan has thoughtfully provided us with a list of what to sow in the winter months (CLICK HERE TO VIEW).
Once your seeds start popping up, expose them periodically to some sunlight, and then close them up later in the day.
I can't tell you how much fun we had at this social gathering. And we learned sooo much.
Susan shared that her granddaughter Lucy asked her if all old people have gardens. Susan replied, "Only the wise. Only the wise and the lucky."