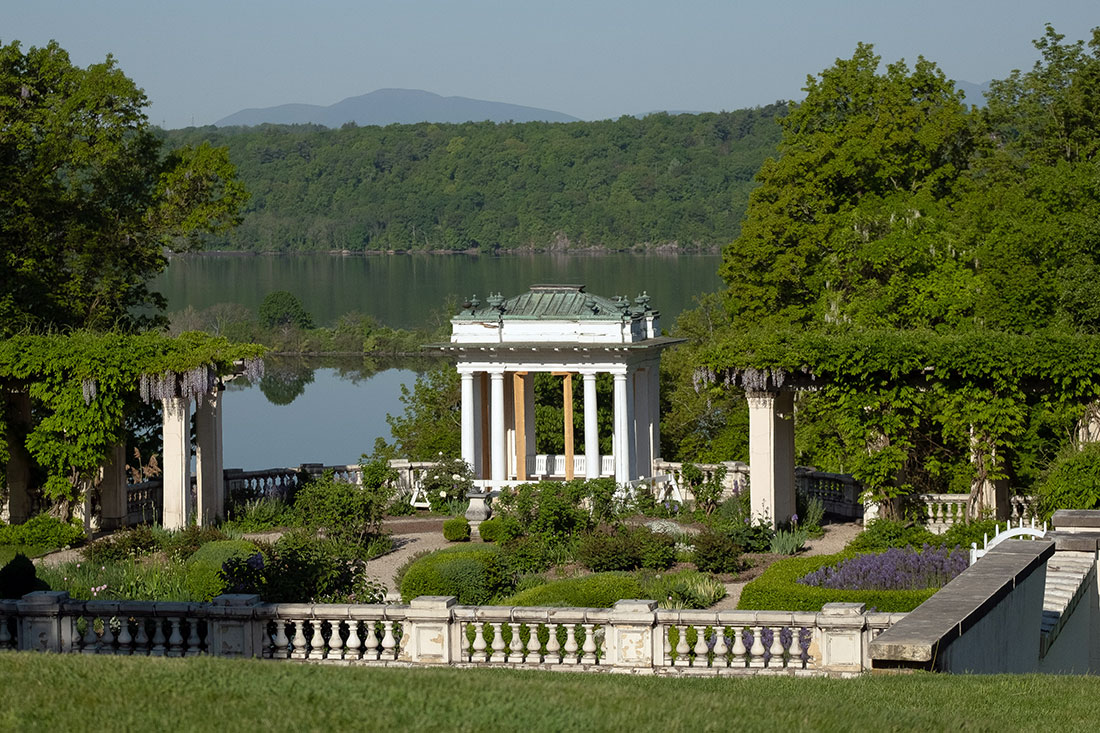 By Gary Miller
The Bard gardens, normally filled with Bard LLI members this time of year, are afflicted with two major challenges. One is COVID-19. The other is restoration. Both affect us in unique and important ways. 
The pandemic's most dramatic effect on our relationship with the gardens is that there is none. We are simply not allowed on campus at the moment. But hope is on the horizon and for that reason let's take a look at our treasured gardens, where they are now, and what might happen in the future. This month we will talk about Blithewood and next month about Montgomery Place.
Located on the Bard College campus, Blithewood Garden is an Italianate garden, designed by Francis Hoppin circa 1903, and is considered an outstanding example of a Country Place Era estate. It is a much-loved garden, with deep connections to the evolution of American landscape design, which has delighted visitors for decades.This significant cultural artifact is now in need of critical repairs to preserve its beauty, ensure the safety of visitors, and preserve its significance as a valuable community resource.
"The organization of landscape reminds us of where we came from and how we thought of the world, nature, and the environment," says Bard President Leon Botstein, "and when remnants [like Blithewood] begin to disappear, we are in danger of forgetting our past."
Over time, Blithewood Garden's architectural elements have been hit hard. The site is heavily trafficked by the public, with over 10,000 visitors annually, and it is exposed to the elements year round. The garden's walls, topped with terracotta balustrades and caps, are cracked, some with gaping holes. The columns of the pergolas and the piers of the central pavilion are in serious disrepair, with crumbling plaster and mortar.
The Garden Conservancy is working with Bard College to plan and implement a historically accurate rehabilitation of the garden's infrastructure, hardscaping and masonry structures. Drawings which will be used for costing, materials recommendations, and project planning are currently being prepared. The rehabilitation involves a high level of technical expertise and specialized materials. The project is seeking funds for this work, as well as to establish an endowment for future maintenance of the garden.
Amy Parrella, Director of Grounds, Horticulture, & Arboretum, says, "I am thrilled and honored to have joined forces with such a prestigious organization like the Garden Conservancy to lead Bard's rehabilitation efforts of Blithewood Garden's architectural features. With their expertise and national connections, combined with Bard's dedicated staff, faculty, students and alumni and the wonderful Hudson Valley community of outdoor enthusiasts, we are well-poised to launch the thoughtful facelift of our 118-year-old garden, and ensure that this treasured resource is preserved and around for future generations to enjoy!"
To learn how you can support the rehabilitation of Blithewood Garden, please visit www.bard.edu/arboretum/gardens/blithewood.