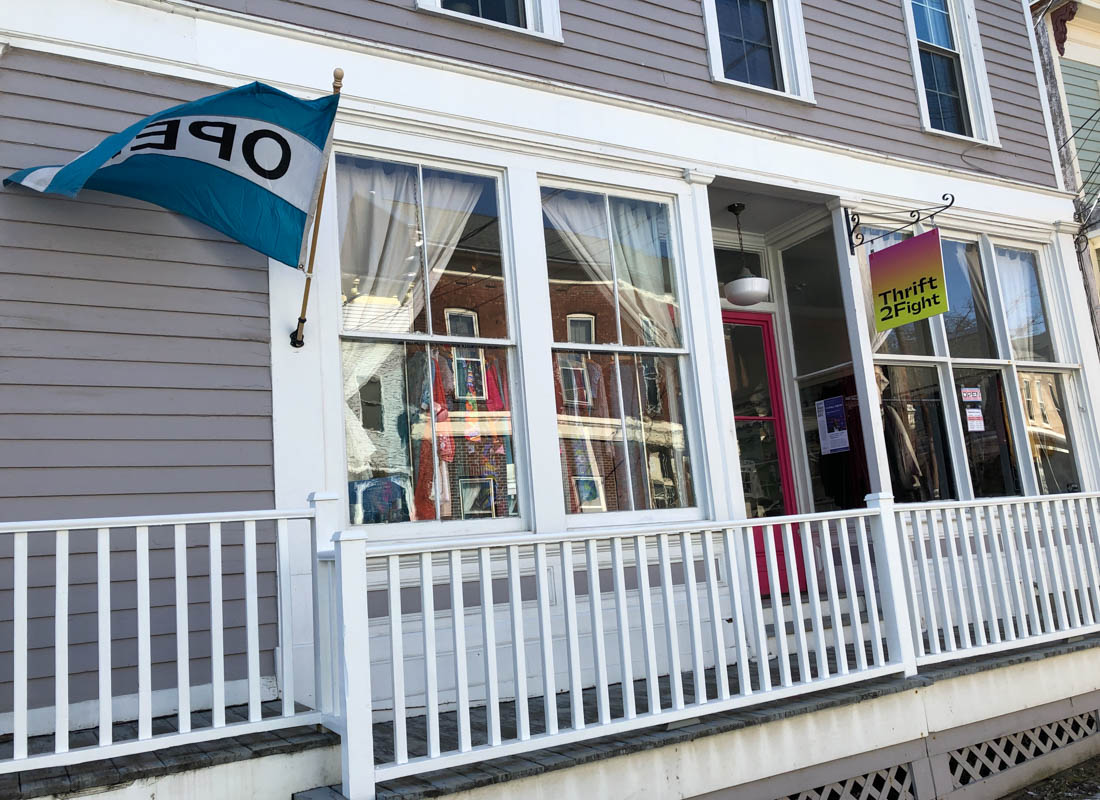 As of January this year, the Village of Tivoli has a new store. It is, however, more than a store. As its co-founders will tell you, it's a movement. 
Before it had a home, Thrift 2 Fight was born as an idea. In 2019, cofounders Masha Zabara and Jillian Reed, who met at Bard's Conservatory of Music (cellist Masha and flutist Jillian), determined that while music was an enriching and laudable pursuit, there was so much in our world that just could not be tolerated. It was incumbent upon them to pitch in to see if they could help effect change. They had to fight the myriad injustices that imperiled the kind of world in which they aspired to live.
In the beginning, to see how much they could raise, Masha and two friends impulsively pulled some clothes from their closets and sold them on the lawn by Masha's home. They raised over $600 to donate! A spark was born!
Masha and Jillian were soon joined by third co-founder and clarinet player Collin Lewis and eventually by Gordon Davis. Masha, Jillian, and Collin audited a Bard College OSUN (Open Society University Network) course called Social Entrepreneurship. Here, the three honed the skills necessary to implement their vision. On behalf of the team, Jillian applied for and received a Davis Projects for Peace grant to support their fundraising. In 2021 they toured nine cities in New York State doing pop-up fundraisers. The tour was a major success, improving their financial status and solidifying their ability to connect and coordinate with other organizations that shared their vision.
Bard's Center for Civic Engagement has been very supportive of the Thrift 2 Fight effort. Paul Marienthal, Dean for Social Action at the College, could be seen inside and out doing carpentry work and painting before the store's opening. The store at 48 Broadway is a beauty to behold.
Identifying Causes of Interest
The brilliance of these young people is that they realized they didn't want to be just another do-good organization. They perceived their mission would be to raise funds for other organizations, locally and nationally, that were already pursuing one or more of their objectives. Originally, the two identified the three areas where they would most like to focus their attention: queer liberation activism, racial justice work, and disability rights advocacy. Their website lists some of the initiatives to which they have donated to over the past two years
Since the start of the war in Ukraine, however, their focus has changed. Masha (they/them) has family in Ukraine, and T2F is now looking to support organizations there. They spoke of the need for such help in a recent post.
In addition to clothing, hats, shoes, handbags, and jewelry, T2F also has a lending library that informs on the movement's subjects of interest. Oblong Books has kindly donated some books, as have a number of patrons. The latest feature of the store is its Mitzvah Wall, which provides a way for shoppers to pass along blessings to someone less fortunate than you and support the goals of T2F.
Check out their website to find out their hours, see their guidelines for donations, and sign up for special events. T2F is not a 501(c)3, so donations are not tax-deductible. It is a NY Public Benefit Corporation.
There is nothing done by this team that doesn't evidence an abundance of intelligence, forethought, hard work, compassion, good cheer, and good taste. Stop by and see for yourself.