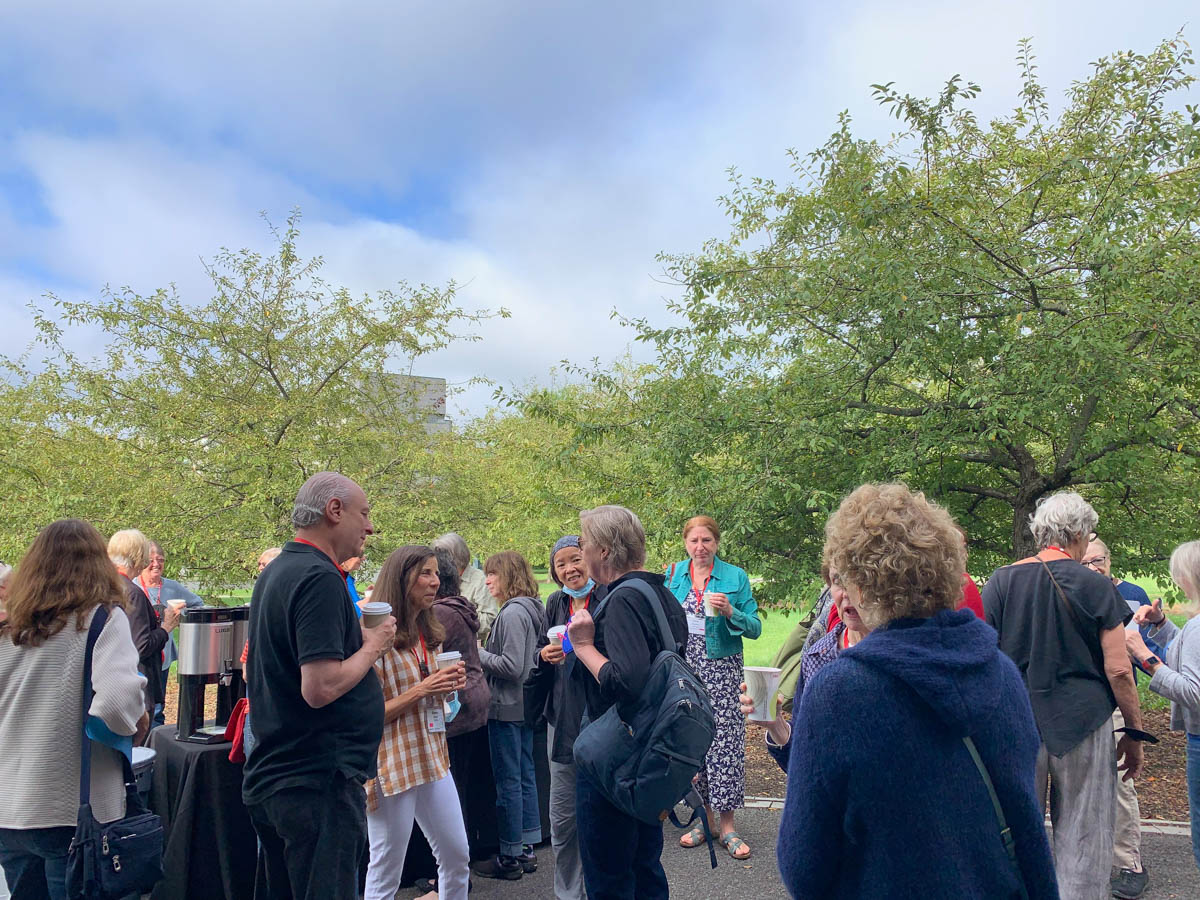 New members, mentors, and Council members had a chance to meet and chat on a beautiful September day outside the Bertelsmann Student Center. It felt wonderful to meet old friends and greet new members in person and learn about their interests and backgrounds. "It's fun," Membership Development Chair Robert Inglish said. After a thoroughly enjoyable coffee hour, everyone went indoors to Weis Cinema to learn the LLI ropes. 
Robert Inglish, chair of the Membership Development Committee, kicked off the orientation with a reminder that LLI welcomes the ideas of its new members (who are 20% of our total membership) and cited the increased variety of social events as just one instance of responding to membership interests. Robert Beaury, our LLI President, noted that more than one-third of our members volunteer to make everything LLI happen and that he hopes new members will offer their talents. Linda LeGendre, chair of the Curriculum Committee, explained that classes come both from the outside and from our talented members and encouraged everyone to share their ideas with members of the committee.
The orientation included all the basic information new members need to find and attend classes, get tech help, get a Bard student ID, and much more. After the meeting adjourned, many new members took a tour of the Bard campus, a great way to learn how to find one's way to classes. Thanks to LLI volunteers (Member Development Committee members) Linda Stanley, Maddy Watterson, and Eleanor Wieder for leading the tours.
The little village of Tivoli was well represented at the orientation for new members with five or six attending. One new member, Kathy Rebillot, doesn't need help getting to know the campus—she worked for the Bard Prison Initiative, retiring in 2017. Her friends all told her to join LLI, and there she was, ready to go.
Robert Arnot of Woodstock is a neighbor and friend of Robert Inglish. He is interested in history and politics, particularly in geopolitical issues. His career led to his spending many years in Asia.
Harriet Glassman found the house she was looking for in Clermont after a search on both sides of the river. She's looking forward to taking writing classes and hoping she will feel comfortable sharing her writing with the group.
As usual, our new LLI members have a wide variety of backgrounds and interests, but they all share intellectual curiosity and a desire to learn.
Thanks to Irene Esposito (Hospitality Chair) for arranging the coffee hour refreshments, to Robert Inglish and Fern Fleckman (Members Services Team Chair) for making sure everyone got their name tags and parking stickers, and to Robert Inglish, Robert Beaury, Linda LeGendre, and Carmela Gersbeck (Program Support Chair) for their orientation presentations.