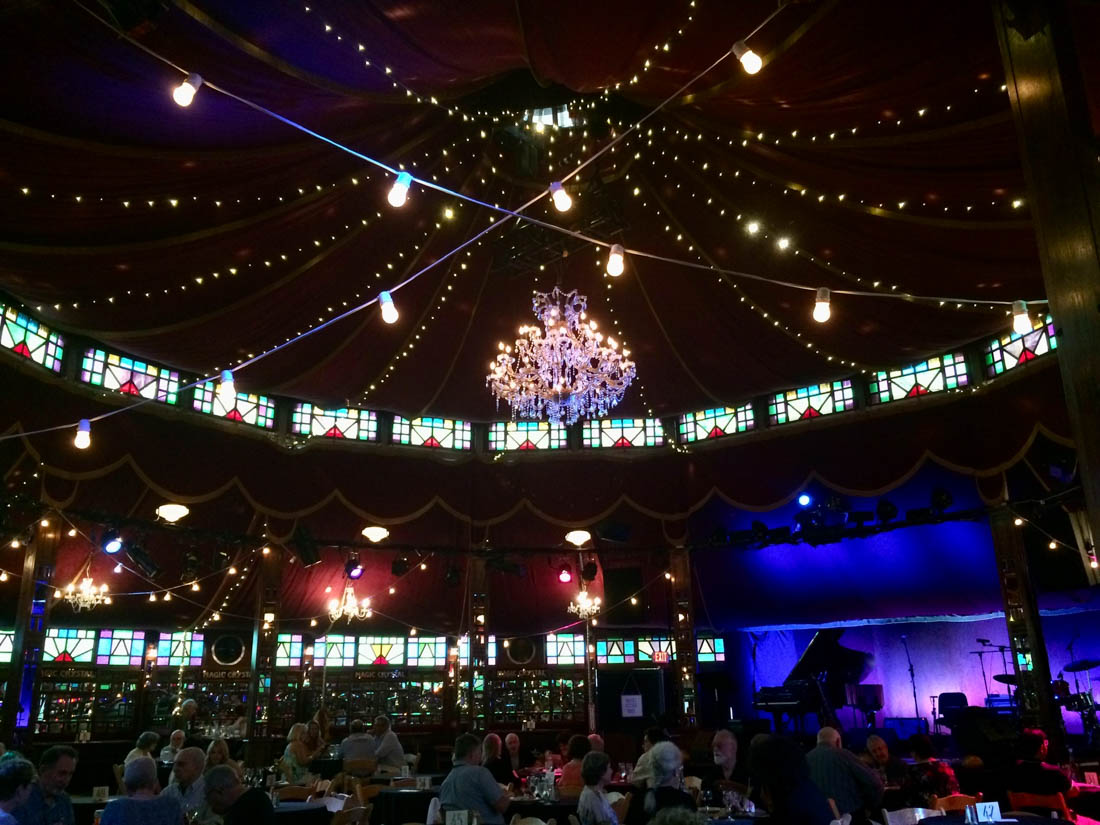 Every summer, Bard presents SummerScape, a rich eight-week offering of live music, opera, dance, and theater. The culmination of the season is the Bard Music Festival, which this summer featured Rachmaninoff and His World. And this summer, as with every summer, LLI members were in the enthusiastic audience, ready to enjoy performances of familiar compositions or to discover the power and beauty of less well-known works. Here are the thoughts of a few members about their experience with what the Los Angeles Times calls "the summer's most stimulating music festival."
Opera and Orchestral Works
Many of the performances took place in the Frank Gehry-designed Fisher Center, which is acoustically tuned for optimal vocal and orchestral sound. Popular presenter and opera aficionado Chuck Mishaan said, "I attended a matinee performance of Strauss' 'The Silent Woman' and found the production to be first-rate and very inventive. I continue to be impressed by the selection of rarely performed operas chosen by Dr. Botstein and by the quality of the productions and the music. It is a privilege and a pleasure to have the opportunity to see and hear these gems, missing from the standard repertoire."
He had one disappointment. "We had tickets for a performance of Molière's Dom Juan, but just as we drove into the Fisher Center parking lot, we were informed that the performance was being canceled due to a Covid positive test of one of the performers."
Linda Stanley has been attending Music Festival performances since they were held in a tent. This year, she writes, "I went to the concert because I love Rachmaninoff's Piano Concerto No. 2 and it was beautifully performed by the orchestra and Danny Driver. The first piece by Paderewski (prelude to Act III of Manru) was also wonderful." However, she found Busoni's Piano Concerto in C Major "way too long and nowhere near the beautiful melodies of Rachmaninoff."
Of course, LLI members are familiar with Olin Hall's classrooms, but the building houses a wonderful concert hall as well. Nanci Kryzak, who attended one of the performances there, commented, "those of us in Olin Hall on Sunday, August 14, enjoyed a powerful performance of Rachmaninoff's All-Night Vigil by the Bard Festival Chorale under the direction of James Bagwell. The liturgical choral music, composed in 1915 and sung unaccompanied in the Russian Orthodox Church tradition, invoked a revelatory experience of Rachmaninoff's intense and sustaining faith during Russia's wartime tribulations."

She added that James Bagwell is known to many LLI members as director of the Bard Symphonic Chorus. The chorus welcomes amateur Bard College and community singers to rehearse important choral works in preparation for fall and spring semester concerts.  If you are interested in joining them, email [email protected]. No audition is required.
Cutting-Edge Music and Dancing
Carmela and Al Gersbeck enjoyed two performances at The Spiegeltent, an enchanting pavilion of mirrors and stained glass. Carmela wrote, "My dance teachers, Linda and Chester Freeman of Got2Lindy dance studio, run the swing dance there, with a terrific live band (this year it was George Gee). There are some wonderful dancers and the music is great. There was also a short dance performance by their 'Cool Cats and Kittens' group, featuring none other than our own Bard LLI member Susan Simon!"
They were equally enthusiastic about a unique performance by Justin Vivian Bond. "If anyone can bridge the gap between the genders, it is Justin Vivian Bond, with their mix of music and storytelling," Carmela notes. "This is the fourth or fifth time we've seen them, and we enjoy it every time. They can sing and tell stories that make you laugh and cry. This year's theme was 'Mary' and the songs were either written by someone named Mary or had Mary in the title (e.g., the opening song was 'Along Came Mary')."
From June through August 2023, Bard will present the 20th Summerscape, featuring the work of Vaughan Williams.