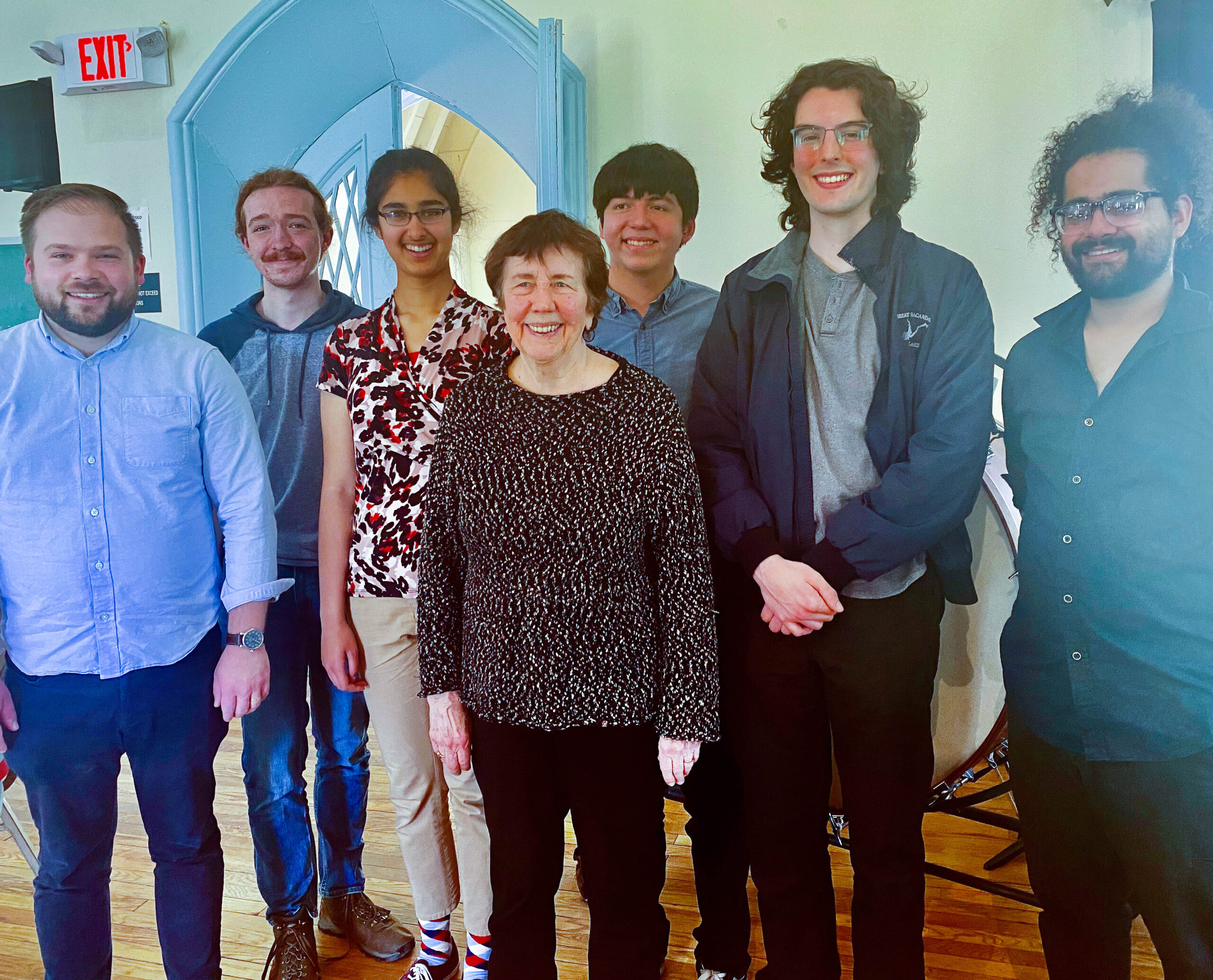 Each spring for the last seven years, beloved Asher B. Edelman Professor of Music at Bard College Joan Tower has offered her course Music! Music! Music! to LLI members. And this year, the course was once again a huge hit for all involved, in, as usual, somewhat different ways. Joan's close ties to Bard music students and her longtime connection to Bard LLI brought us together on seven Fridays in Bard Hall—Joan's preferred performance venue because of its resonance—to enjoy a wide variety of beautifully played music. Joan keeps offering this class because she finds it "a structure that works for everybody," meaning the students, the audience, and herself.
The decision process about what music will be played at each class is what Joan calls "a negotiated agreement." She approaches students she knows to help her curate the weekly program. This year she counted on Andrea Abel, Michael Knox, Francis Chung-Yang Huang, Jonathan Collazo, Georgi Chikolov, Leo Gurevich, and Raman Rama Krischnan to pull the Friday performances together. Joan carefully evaluates whether their proposed musical pieces would meet her stringent standard to be "strong." When asked what that means, she says well-written music has a narrative and a powerful individual voice. She also hopes that the performers are as good as the music. After a decision is made, the students enlist other student musicians for ensemble pieces and begin practicing and preparing.
We heard solo performances on flute, double bass, piano, violin, and percussion. We heard duos and trios and other ensembles of various sizes. We heard works composed by Dead White European Males (DWEM), a delicious piece by Olivier Messiaen called "Quartet for the End of Time," a piece that Joan composed for flute and string quartet entitled "Rising," and some Chick Corea jazz. There was a piece written for an array of percussion instruments that could fit into a single shopping bag, and another played on percussion instruments that took up half the room. Three student composers heard the premieres of their works when performed by other students. And Joan played a piece on the piano that she composed for her late husband, called "A Love Letter." This does not come close to covering all the fantastic musicians who performed and all the music we heard.
What Do the Student Musicians Get Out of It?
Joan warmly greeted the musicians each week with a big smile. She is their greatest cheerleader and promoter as she reads a small bio of each performer and adds a few supportive comments of her own. Often, when preparing for a concert or senior project recital, students welcome a chance to practice in front of an enthusiastic LLI audience. We were treated to performances by international instrumentalists who had a broad range of living, study, and performance experience worldwide. Several performers talked about the joy of playing in small ensembles and the lessons learned through that experience. One said it was a dream come true to play and develop trust with such high-quality musicians. Another noted that ensemble playing requires that you know everyone's part, or you will be left behind. There is no hiding because everyone is featured. Also, the most challenging part about playing with others is listening. Joan added, "And a strong performance reveals a musician's love for the music."
What Does the LLI Audience Get Out of It?
The pleasures may seem obvious, but they are beyond what one might think. Yes, LLI class participants were privileged to hear hours of diverse, outstanding music that in some cases had never been heard before. What an honor this was in addition to seeing and hearing an overwhelming array of talent. But there was more. Besides witnessing the caring, respectful relationships Joan and her students share, LLI members were invited to ask questions at the end of each performance and become participants as well as listeners. I asked Joan, "Do the students really want to know how their performances made us feel?" She answered emphatically, "Of course! When you are performing, you are reaching out. It is very helpful to get that kind of feedback."
What Does Joan Get Out of It?
At the end of each class, Joan arranges a line of chairs, one for each musician and herself, facing the audience so that a culminating conversation can take place. She starts with a question or two for each student to warm them up and signals that this dialogue is to be taken seriously. It is a teaching moment. The students are charming responders. Then they take questions from the audience. The bond Joan has with these talented young people shines. Joan finds great joy in getting to know new students. She likes to see how they explore and enjoys watching them step out of their comfort zones. 
Joan also gets to impress the need to promote the work of living composers of all genders and ethnicities in concert planning on the next generation and the LLI audience. How many times during this course did Joan blurt out "He died, you know," when a DWEM composer was mentioned? She startles us like this for a reason. Surely some of this comes from having no women composers as role models as she studied for her doctorate in musical arts at Columbia in the late 1970s. She thinks that living composers should be included in every concert. "We must move on! Let some air in!"
When asked how long she would be willing to offer this LLI course, Joan quickly responded, "As long as they'll have me."
LLI owes a huge debt of gratitude to all the exceptional students who shared their talent and time, some for more than one class, and who lugged their instruments to Bard Hall during a very busy time of the academic year. Someone might be left out if we tried to list you all, but you know who you are. And to Joan who brought all this winning and learning music magic together, the biggest thanks of all. See you next year, Joan.