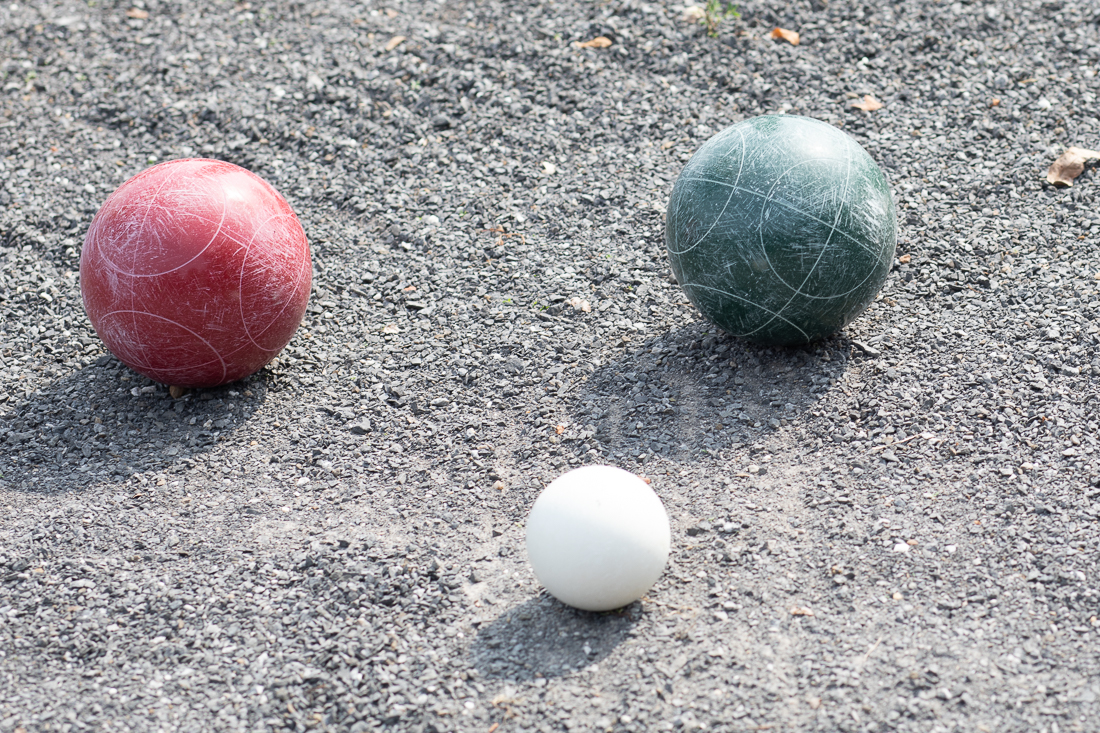 One of the benefits of taking an off-campus course is the opportunity to get to know people outside of a classroom, usually while hiking, visiting a horse farm, or taking a stroll around Olana—often with a picnic lunch after.
When I suggested an off-campus course on how to play bocce ball to the Curriculum Team, I had no idea that it would generate so much fun and enthusiasm for the game. Maybe it's because people were anxious to get together outside, or maybe people just like learning a new sport, but the response was immediate! 
My husband, Al, and I learned to play bocce while vacationing in St. Augustine, Florida back in January 2020. It was easy to learn, and there was a league, composed mostly of seniors who seemed to have a lot of fun playing. We were hooked and played almost daily until we came back to New York. We were surprised to find two nice bocce courts in Kingston that were rarely used, right on the Hudson River! The park is only open from May 1st to October 31st, but we played regularly throughout 2020 and 2021, so we thought it might be fun for our Bard LLI classmates—and we were right!
The rules of the game are fairly simple. The goal is to get your team's bocce balls as close as possible to a small white ball, called a  pollino. The only team that scores is the team whose balls are closest to the pollino. We sent this video out to the class participants, along with these rules, and after 20 minutes of a review for the first game, everyone was able to start playing. As the semester progressed, we refined the game by asking each team to identify which team member would go first, second, third, and fourth (which saved time and eliminated confusion), and Al thought it would be fun to have a championship tournament towards the end.
Al and I were very surprised at how quickly everyone learned, and how much fun we all had! The River Ratts (Nanci Kryzak, Linda Still, and Jane and David Offill) created a cheer for their team. Whenever they were losing, they would cheer—and lo and behold, they would win the game! It was no surprise that they took first place against The Leftovers (Susan Simon, Donna Warner, Laura Wasserman, Ann Miller and Martha Gershun). Because the points depend on how close one team's bocce balls are to the pollino, there is a lot of measuring that takes place; sometimes it can come down to one-quarter of an inch to determine who gets the point. Team members started developing a style, like Donn Critchell who developed a great throw, and Susan Simon, who realized she did better throwing with her left hand (even though she's right-handed).
Socializing and Meeting New Friends
A big part of joining Bard LLI is the socialization aspect. After the game, several people would stay and have a picnic lunch. It was terrific to get to know people in a relaxed setting along the Hudson. We chatted with several new LLI members, including Jane and David Offill, who had just relocated from Charlotte, NC, Susan Simon, and Catherine Baiardi. Everyone enjoyed meeting people whom we had only seen on Zoom before, and it was fun to sit and talk after 18 months of isolation. It is indicative of the fun people had that on the last day of classes, 19 people showed up to brave the 25 mph winds and play bocce!
Given the response to this class, we would love to repeat it. Since the park is only open from May 1 to October 31, we need another venue if we want to repeat this in the spring. If anyone has a bocce court at their house or knows of one that's available in the spring, let us know! We are going to spend the next few months looking for another venue. We are also thinking of having two sessions in the fall so more people can play since only 16 people can play on two courts. Stay tuned for more information on bocce and/or other off-campus courses in the spring.
Click Below to See the Photo Gallery