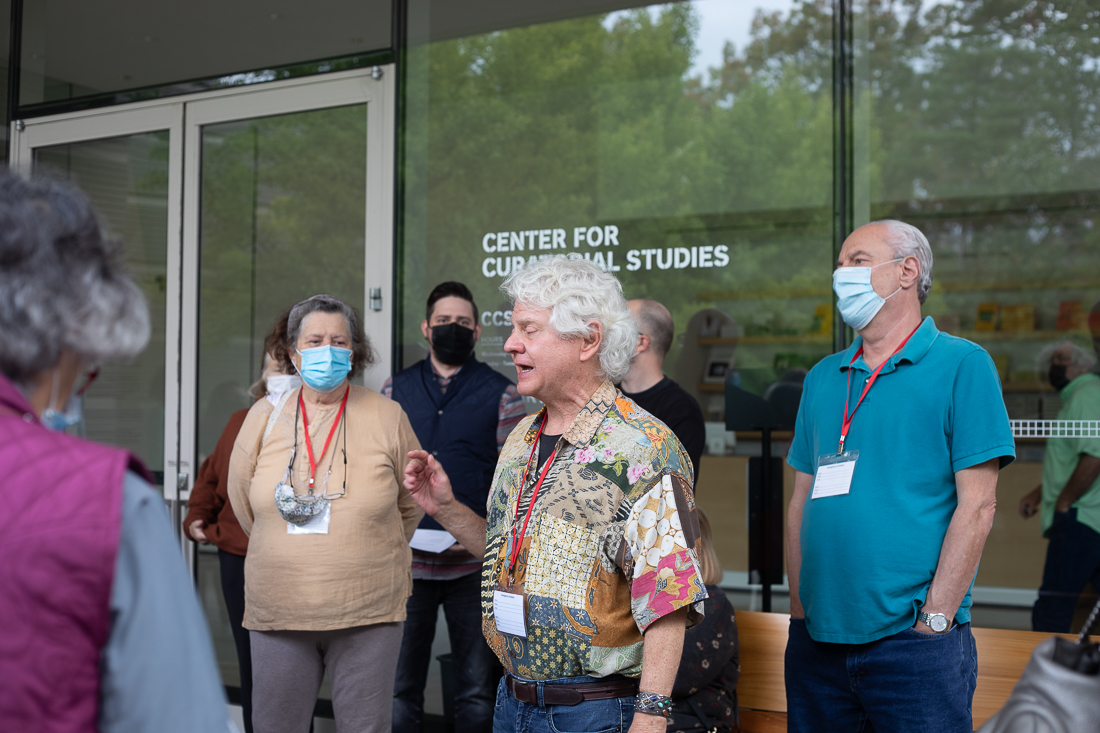 A Beautiful Day for a Tour
Fifty LLIers gathered on a beautiful day outside the Hessel Museum, taking advantage of the unusual opportunity to chat and catch up in person. We were divided into two groups, one led by first-year graduate student Kyle Herrington and second-year graduate student Eduardo Alfonson, the other by Casey Robertson, Graduate Program Associate and Community Outreach Coordinator to tour the exhibits.The tour guides were gracious and knowledgeable, explaining how curatorial decisions were made and the rationale behind the juxtaposition of various works, and providing information about various artists and the artistic movements they are associated with.  
Drawings and Works on Paper
The exhibit from the extensive Marieluise Hessel Collection of Contemporary Art featured 20th century drawings and paintings on paper from Europe, the Americas, and Africa. The enormous breadth of the collection (the exhibition was curated from more than 40,000 items) permitted the curators to create vignettes from many different periods of contemporary art. The Hessel collection is central to the curatorial studies program and provides an exceptionally deep resource for the students to curate exhibits. The Hessel Museum generously offered the exhibit catalogue to everyone on the tour.
In contrast, the With Pleasure: Pattern and Decoration exhibit examined an artistic movement whose critical acceptance spanned just a decade. The media runs the gamut from oil paintings to upholstery and wallpaper. Forty-five artists were featured, including those most foundational to the pattern and decoration movement. LLI member Kathy O'Connor says, "I was particularly wowed by the With Pleasure exhibit—the intensity of color, the jubilation surrounding us. It was spectacular." If this intrigues you, the exhibit runs through November 28. You can book a timed visit here. Closer to Life: Drawings and Works on Paper closed October 17.
Many of us adjourned to the Greig Farm Abandoned Hard Cider Bar to share our impressions of the exhibits and to revel in the chance to meet each other in person at long last. LLI member Merrill Mishaan enthused, "It was nice to get out and socialize together." The farm provided a wonderful array of appetizers and five choices of hard ciders to taste.