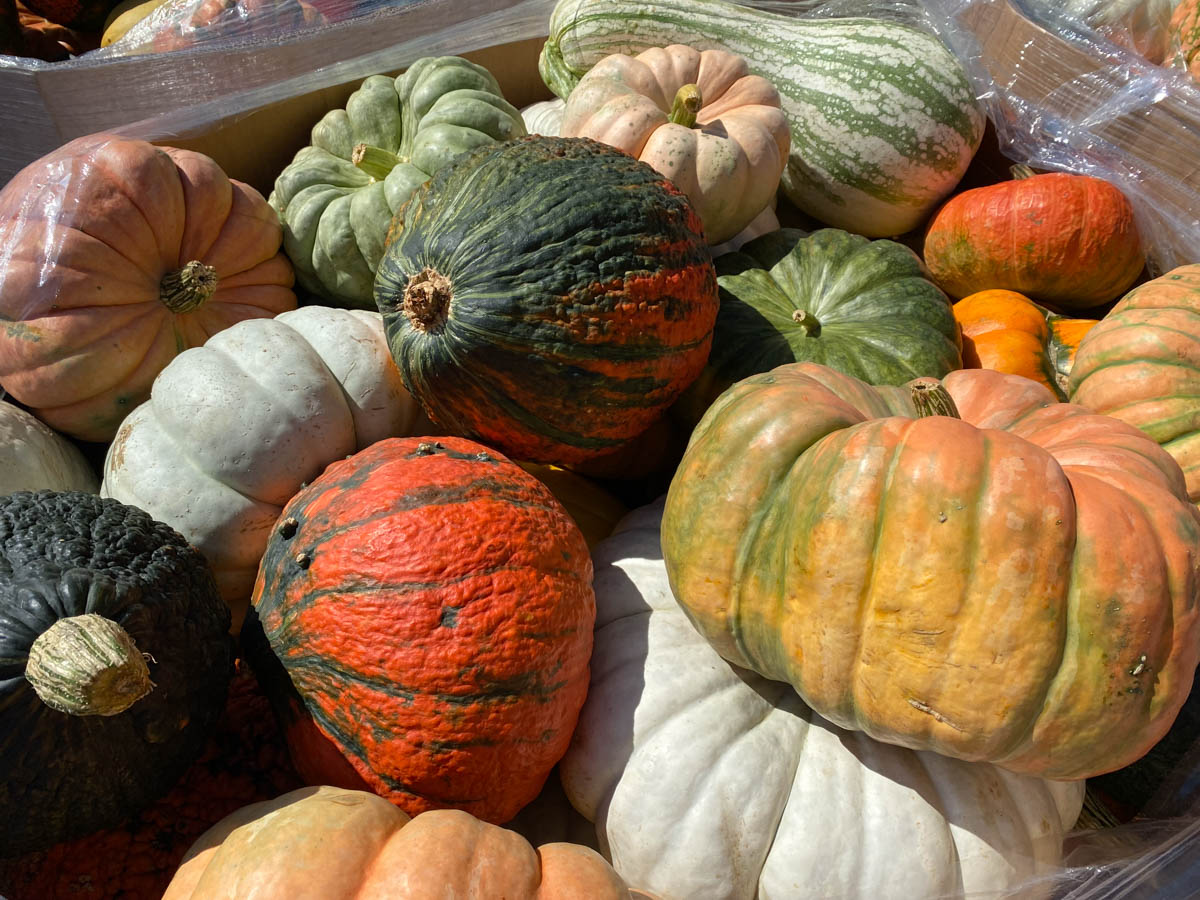 Local residents and seasonal visitors look forward to picking up beautiful fresh produce and locally made farm offerings from June to November at the Montgomery Place Orchards Farm Stand on 9G in Red Hook, New York. Known especially for well over 60 varieties of apples, sold as they ripen and are picked, the place is always busy, especially during autumn. Montgomery Place Orchards has been run by Talea and Doug Taylor for 35 years. Talea took time out of her very busy day to answer my many questions and show me around the farm kitchen and cold storage buildings at Montgomery Farm, where products are made and stored before hitting the farmstand shelves.
As I rode up on my bike to the Montgomery Place farm kitchen, Talea was pouring apple cider into large jars at an outdoor wooden counter. Different apple varieties make cider with distinctly different tastes and appearances. The farm stand sells about three kinds at a time. A worker was using a machine to crush apples to a fine pulp, a messy outside job. Inside the kitchen, Susan, the kitchen manager, along with assistants Mary and Lucy, were all busily at work making pie crust and filling jars with honey or applesauce. The applesauce, as well, can vary in shades and flavor depending on the type of apple. Other items made in the farm kitchen include salsa, basil pesto, and pickles.
Different types of apples are spotlighted in the pies made in the farm kitchen and sold at the farm stand. Uncooked pies are sold frozen so that customers can enjoy the wonderful smell of a baking apple pie at home. The Montgomery Farms signature pie is made from Northern Spy apples. "Spys are for pies!" says Talea. The farm has been growing Spys for 100 years. She also declared November as official Pie Month.
A large donut-making machine was not in use in the kitchen when I was there. Apparently, when Dawn, the cider donut–making expert, is at work, everyone has to clear out to give her the space she needs. Dawn is well-known for her eagerly anticipated delicious cider donuts, affectionately called "Dawnuts" by the farm crew.
The Farm Stand During Covid
Actually, Talea says business at the farmstand during Covid was quite good. Because it is an open-air stand, people seemed to be more comfortable shopping there. Several adaptations were made to help customers get in and get checked out quickly. A few, such as selling pre-bagged green beans or apples and offering boxes to shoppers, have remained. On some of the busiest days, usually a Friday or Saturday, the farmstand has done a stunning 600 cash register sales. The bit of welcome extra income allowed for the purchase of one or two costly machines needed to turn fresh produce into the delicacies created in the farm kitchen.
What are Those Mannequins Doing in the Orchard?
Are they scaring away crows? "No," says Talea. "That idea actually came from my husband, Doug, who has a rather interesting sense of humor." You can see the stationary duo off River Road, across from the entrance to Montgomery Place. They actually have names: Blossom and Brutus Deery. Blossom gestures toward the long row of colorful zinnias planted primarily for pollination and visual enjoyment. Brutus guards the gate and harbors a strong secret weapon in his pockets—aftershave, which is an odorous deterrent to hungry deer.
Montgomery Farms Going Forward
The partnership resulting from Bard College's purchase of Montgomery Farms has gone well. Talea says Bard basically leaves the farming operation alone, which signals to her that she and Doug are doing all the right things. She is very grateful for the quick attention given by the Bard Building Grounds and Maintenance folks when something needs fixing. The farm and kitchen staff operate like a very hard-working and much-appreciated family, without whom the wheels of this working farm would not turn. Talea and Doug are especially excited that their daughter, Caroline Fincke, who is now managing the Montgomery Place Wayside Stand, has plans to continue in the family farming business.
The farm stand will be open until Thanksgiving. The hours are Wednesday through Saturday, 9:00 a.m.to to 6:00 p.m., and Sunday from 9:00 a.m. to 5:00 p.m.
You can read more about the Montgomery Place Wayside Stand here.